QUEBEC
The St. Lawrence River certainly is a unique body of water. It is the final draining run, if you will, that empties all its feeder waters upriver, into the north Atlantic Ocean.
Before Angelo and I fished it extensively, I personally didn't realize the potential here. Many years ago, I won a bass tournament on a section of the river by catching a couple days' worth of quality Largemouth. I'm pretty doubtful that could be replicated nowadays. That's because the Smallmouth Bass in areas of the St. Lawrence River are as giant as they are plentiful!
That tournament area was Lac St. Pierre, a great section on its own. However, the one I'm recommending here is Lac St. Francis, which runs from around Summerstown, Ontario to Salaberry-de-Valleyfield, Quebec.
Although it is part of the Saint Lawrence Seaway, it is classed as a lake. It borders southeastern Ontario, southwestern Quebec and northern New York State. If you haven't fished "Franny," then you owe it to yourself to give it a shot.
Aside from being a Walleye, Largemouth, Perch and Muskie factory (where Ang and I caught these two giants), Lac St. Francis is home to Smallmouth Bass that will blow your mind. I'm talking lots and I'm talking BIG!
The Franny Experience
I will forewarn you, though: You better be ready to fish in current. There are spots on the lake that are pretty much current-free and have great Smallmouth fishing—however, you'll eventually need to get into that strong current (often 2 mph or more) to truly experience the full Franny Smallmouth experience.
As an example of just how strong the current is, Angelo and I will often anchor-lock our 36-volt Motorguide (that's over a hundred pounds of thrust) up current from a potential hotspot and that trolling motor will be pumping at full capacity just to hold us in place. We've even had situations where we couldn't hold (Canadian and U.S. power companies opening the dam for more hydro generated power).
Two of our favourite current-oriented Smallmouth techniques are dropshotting and Carolina rigging. Both have their place at different times.
As I stated above, we will sometimes lock into position and try to work a specific area,  but oftentimes, especially while looking for fish, we will drift with the current on a specific line and try to pick off fish with that approach. It's great for covering water fast.
Both methods work on not only St. Francis, but on virtually any Smallmouth river with current.
Monster Largemouth
I must not neglect the Largemouth Bass here. Although they are seemingly outnumbered here, there are some real specimens in the back-waters. In fact, the feature image of this article is a giant that I caught (while fishing with both Angelo and Reno) with a "Jig & Pig" off of some wood in thick weeds. I was so surprised and excited that I craned that puppy in with my flipping stick before the brothers could even react.
Then I heard Ang pipe up, "What were you thinking? That fish is a monster!"
Things went so fast I didn't even realize how big the fish was. "Wow, I guess you're right," I said, looking down at the massive largie. "That might be a five-pounder."
Reno laughed aloud and said, "Try six-plus! And by the way, get your eyes examined next week, Bowman!"
Ang agreed.
NEW BRUNSWICK
Speaking of rivers, my last place on this list is another iconic Canadian river that may have more Smallmouth per square meter than even the St. Lawrence!
The St. John River in New Brunswick is quickly becoming one of the country's best producing Smallmouth Bass waters. It's 673 kilometres long and has a basin size of 54,986 km² (that's lots!). It starts out in Saint John Ponds, Little Saint John Lake, and empties into the Bay Of Fundy.
The first time Angelo and I fished here, the conditions were less than optimal (cold front in the spring) and we still caught the hell out of them. No giants, but phenomenal numbers. I will always remember the very first area that we pulled into: a current break along the shoreline. Once we figured them out, it was fish after fish. The real memory kicker there was Ang catching two smallies on the same lure at the same time (a suspending jerkbait). That is what fishing stories are all about!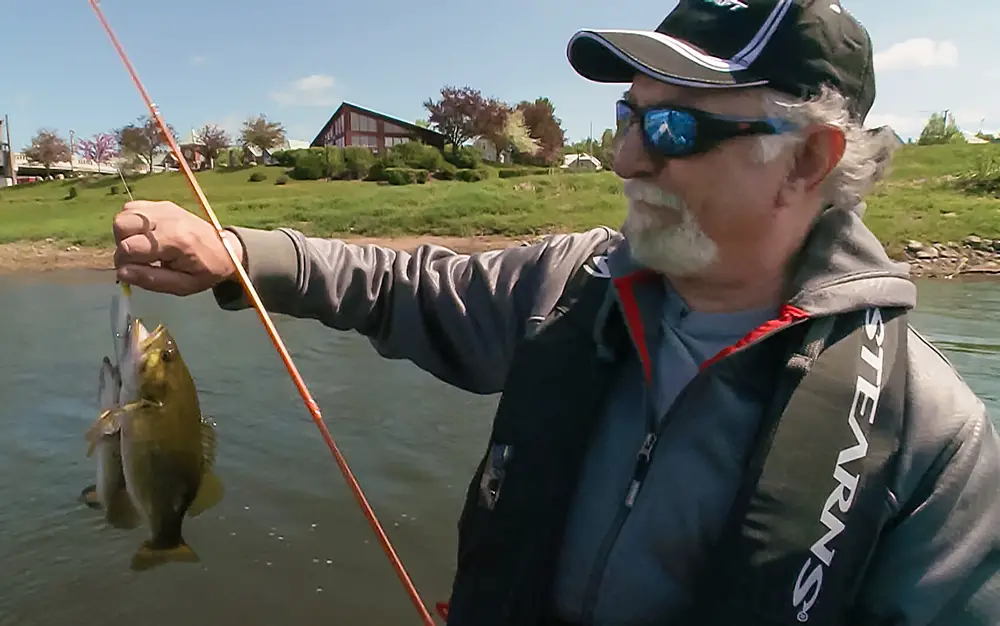 The main river itself is a fantastic fishery. Add in the feeder creeks and rivers, and you've got miles upon miles of almost untouched water to explore.
Check out this blog post about that trip.
It's on our "Return-Visit List" for sure!
CONCLUSION
Hopefully you enjoyed this piece about five-bass lakes that I recommend—they truly are great producers. It is such a difficult and daunting task narrowing down a list like this. Being from Ontario, we know of so many bass lakes that could have been included in this article. A future list is sure to follow—be on the look-out.
Have a great bass season!
– Pete
CONTINUE TO PAGE 3 FOR PETE'S BONUS HONOURABLE MENTION