Presented by Garmin
When I said at the end of my last Fishing with Electronics blog that I was looking for just one more bite, I did not mean it literally.
As it goes in fishing, however, that is exactly what I got – and it did not come easy.
The Plan
With one of the best "numbers" days in the books, my goal for this weekend was to follow it up with at least one big fish. On most bodies of water, "big" is a subjective term. On the Bay of Quinte, however, it is much less so, with 30″ inches seeming to be the cut-off to label any fish a true "Bay of Quinte Walleye."
---
Aside:
I have learned from my time around hardcore bass anglers like Angelo Viola and Pete Bowman that my measuring of fish in inches can cause some confusion.
In the world of guiding, where my walleye fishing career has focused, fish are measured in inches to allow American anglers to collect Master Angler hats and to allow mature fish to be released without the delay that cheap, rain-beaten scales so-often cause. For this reason, I am absolutely terrible at estimating the weights of fish, especially walleye. Here is what I found online for calculating how much a 30″ walleye would weigh:
| | |
| --- | --- |
| Inches | Approximate Weight |
| 25″ | 6.36 lb |
| 26″ | 7.20 lb |
| 27″ | 8.12 lb |
| 28″ | 9.12 lb |
| 29″ | 10.20 lb |
| 30″ | 11.36 lb |
| 31″ | 12.60 lb |
| 32″ | 13.94 lb |
| 33″ | 15.38 lb |
From In-Fisherman
---
To accomplish this goal, I was going to a spot that I knew would have a few big ones nearby, a small hump, multiple kilometres offshore, surrounded by a deep basin.
Joining me was one of the only guys I know who would enjoy walking nearly three kilometres in late January, hours before the sun has even thought about coming up, my good friend Josh Rousseau.
As many of you likely know, and as Josh was well aware of before he signed up to join me, going for big fish often involves a sacrifice. Though the idea of leaving fish to find fish baffles some, I have often found it necessary to venture off of large schools of fish to find the big, solitary females you are after. This seems especially true for walleye who are voracious cannibals and who rarely turn down the opportunity for a bit of infanticide.
With this in mind, Josh and I made the decision to move away from the schools I had found the week before and focus our efforts on a trophy.
First Light
Three kilometres is not a long distance. When on the road, it is short enough to cause panic in drivers who are still in the fast lane when Siri's voice rings through the car and comes up quick enough to warrant the occasional "I'll take the next one" from less-adventurous operators.
On the ice, three kilometres looks much different. For one, there is very little to see, as any ice fishing trip worth having begins hours before daybreak. Instead, you stare downwards, feeling your moustache freeze as you watch the spud send ice chips flying in front of you and pray you don't see black when that metal pole pulls back from the ice. Thankfully, on this day, the ice was snow-free and the 120-pound, well-packed hut I was towing did not add any stress and instead glided relatively weightlessly behind me along the smooth black ice to provide one of the most leisurely walks to a fishing spot I have ever had.
Once you get to your spot, re-clothe, and pull your hut over your head, all the suspense of the walk comes down to one thing, the loading screen of a fishfinder and the much-anticipated phrase: "they're here".
This was the phrase that Josh heard me recite as I watched the green glow of a walleye appear on my LiveScope shortly after we drilled our first hole. However, my voice was probably a bit flatter than he would have liked.
As you read last time, this was exactly how my day had started the week before and, if these fish were anything like the ones on that day, they were not even going to be thinking about eating until at least 7 am. We sat down and prepared to wait.
Evidently, these fish were indeed cut from the same cloth and we spent two hours watching fish cruise past our lines.
Prime Time?
Two hours was actually a significant understatement. As you can see by the time stamp on my LiveScope screen, these fish had a case of lockjaw that extended well into the morning.
What was more frustrating was that the non-committal fish were not simply cruising by like they were on the last outing, but rather nosing the bait and chasing it, just long enough to get our hopes up, before disappearing head-first into the green bottom of the LiveScope.
On LiveScope, this means that the fish are hugging the bottom and swimming out of range of the transducer. In reality, this lock-jawed nature of winter walleye is somewhat of a mystery. On a recent Outdoor Journal Radio podcast, Dr. Steven Cooke suggested that this behaviour occurs when a walleye has recently fed, as the slowed metabolisms caused by the cold water require these fish to eat only every couple of days. Perhaps all the lost minnows of the huts around us were not doing us any favours.
For more on that, check out the show here:
A Case for Stubourness
When fish are looking rather than eating, conventional thinking would often have you changing baits and experimenting with colour. I left this job to Josh, who played around with Rattle Baits, sparkly jigs, and big spoons while I stubbornly jigged away with my favourite spoon and minnow head.
This decision eventually paid off when a slow fish on the edge of my screen picked up steam and decided to give us our first bite of the day, nearly five hours after we had dropped our first line.
As the opening paragraph suggested, this first bite was also our last and we ended our day batting roughly 1% – seeing around 100 fish cruise past our sonar and hooking the one we were after.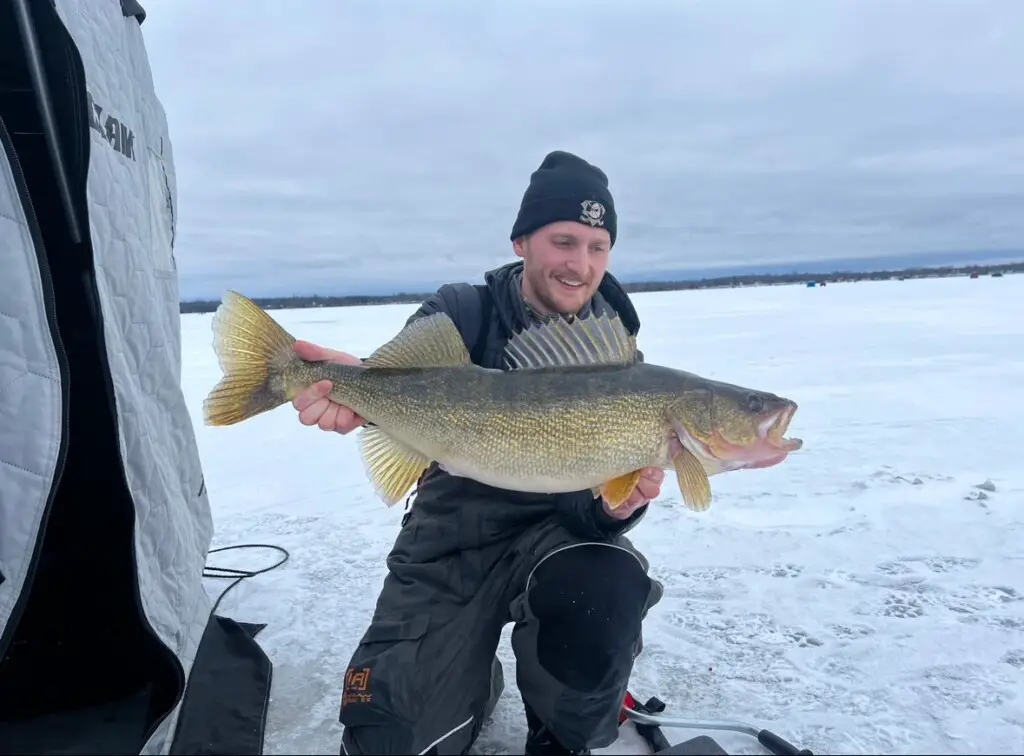 One bite is tough to complain about when they look like this.