Spring is here and the boat launches, at least in this part of the country, are finally losing their ice.
Though the warm weather is exciting in and of itself, the ice out season is also one of the most productive times of years to hit the water, seeing one of our nation's largest aquatic predators, the Northern Pike, at their peak in terms of feeding.
So, in honour of this exciting season being upon us once more, we're going to give you our suggestions for hitting the shallows early in the year and going Pike fishing.
Remember too, that early season Pike in southern Canada differs greatly from the extreme north. Late April (if the season is open) compared to late June (Yukon, NWT, Nunavut) is a huge difference.
SPRING NORTHERN PIKE
Northern Pike are notorious for being big, bad, and nasty. The perception is big fish eat big baits. That is true to a point (Pike eating ducks, muskrats, etc), however, early in the season, you might be batting zero if you fully stick to that mind-frame.
Our team of specialists (well… our team of two… Angelo and Pete that is) have dealt with early-season Northern Pike fishing from east to west and north to south, in Canadian waters. In doing so, they have either had to think off-the-cuff and let the process of elimination steer them or they have relied on experts like lodge guides or Esox specialists.
All of the below suggestions are used in the context of shallow water situations.
As with most of our Top 5 web articles, these choices are in no particular order and are merely suggestions from our two hosts. Here are our Top 5 Early Season Pike Presentations!
INLINE SPINNER
If we had a top 3 list, and possibly even a top 2 list, an inline spinner would still be on both. That's how strongly believe in the lure for an early season Pike choice.
Here's the kicker though, a #3 would be at the larger end of the choice.
"I remember way back on a northern Saskatchewan shoot early in the season," says Pete "when Reno Viola, Ang's brother, and I were fishing a well-known trophy Pike lake. This is a place known for BIG Pike (Lake Trout too but we were there for early season Pike). After a day and a half of catching great average-sized fish of up to around 15 pounds (not big for up there) and in a desperate mode to catch a 20lb plus fish, our guides kept telling us to put on a small spinner. At first, we did the usual yeah right but then thought about it, figured it sounded legit and made the change. That last-ditch effort put the biggest Pike on camera during that shoot."
Since then, our guys have experimented quite a bit and have come up with their own particular parameters.
#2 or #3 blade sizes are the best of all worlds
gold or silver are the two best colours (subtle is the key) the old adage of gold on overcast days and silver on sunny days works pretty well here.
plain undressed hooks are the first choice, a small black, brown or white dressing would be next.
If we could use just one spinner/brand it would be a Mepps Aglia #3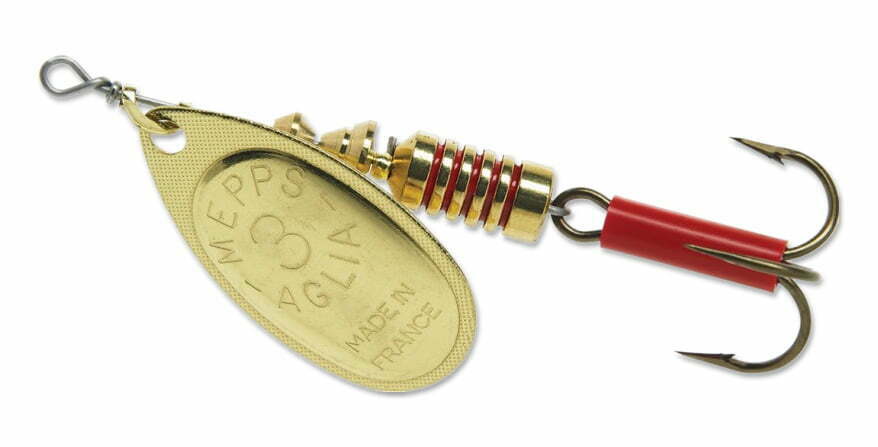 NOTE: Want double trouble inline for when the fishing starts to heat up, then check out this beast!
Go here to see the different types of spinner blades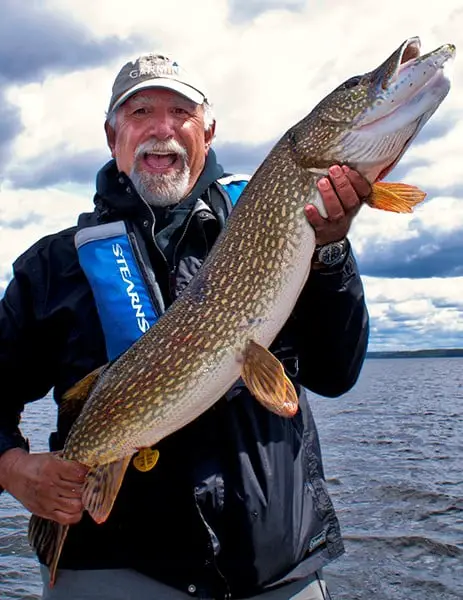 SUSPENDING JERKBAIT
A suspending Jerkbait is an obvious choice for Pike fishing any time of the year and it holds true for the first of the season.
The beauty of the Jerkbait is the pausing quality.
Pike are an ultimate predator, big, fat, and nasty with a mouthful of razor-sharp teeth. With all that weaponry, one would think that Pike would haphazardly smash anything and everything instantly.
That, however, is not true.
Pike often, for some strange reason, like to follow their prey and wait for that perfect moment to strike (it might be a game to them, or it's simply the way it is. Regardless, they do it a lot!)
That's where a suspending Jerkbait comes in.
We're always looking and learning when it comes to fishing. Many years back they were at a lodge and a group of fly fishermen were scoring large on big Pike. After an urgent huddle, we figured the pause in a fly retrieve "could" be the key.
We think we were right. That's when it all started to click.
The pause and the suspending quality of the jerkbait are the ticket.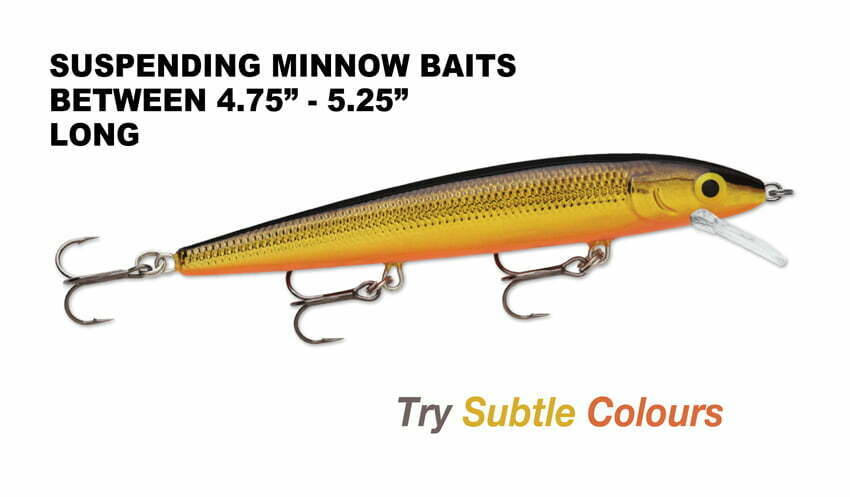 Next, we looked at the shape of the flies. They were big for flies, but small for lures. The main bodies were around 5" long and the colour patterns that were working at the time were pretty basic.
Hence that's the reason we came up with a 5" appx. model. The smaller (as like the spinner above) profile seems to be better early in the year.
So far we haven't found anything that beats a gold or natural coloured, size 12 Husky Jerk
Gord Pyzer gives you his lowdown on the Jerkbait here
If you have other Pike killers that have worked for you, please let us know as we'd love to add them to our arsenal.
THE BUZZBAIT
This one may surprise you but it's very time-specific. Yes, time-wise we are already talking about early in the season but we believe the Buzzer has a time within a time variance.
Try and keep that Buzzbait out of the water in the morning. It will pick up a fish or two, however, there are many better lure choices for earlier in the day.
On those warm spring afternoons, however, with the sun shining down and the water temps on the rise, a Buzzbait can be a killer. It covers lots of water and it ticks Pike off!
One of our main reasons for liking this type of bait is that it comes in at a steady retrieve and, believe it or not, it can be slowed down (somewhat but not too much) driving Pike crazy.
The strikes that occur from a Northern Pike eating a Buzzbait are like no other. As they say, "it's worth the price of admission!"
Good early Buzzbait colours are black, white, and chartreuse and if you can find a red blade for the black skirted bait, even better.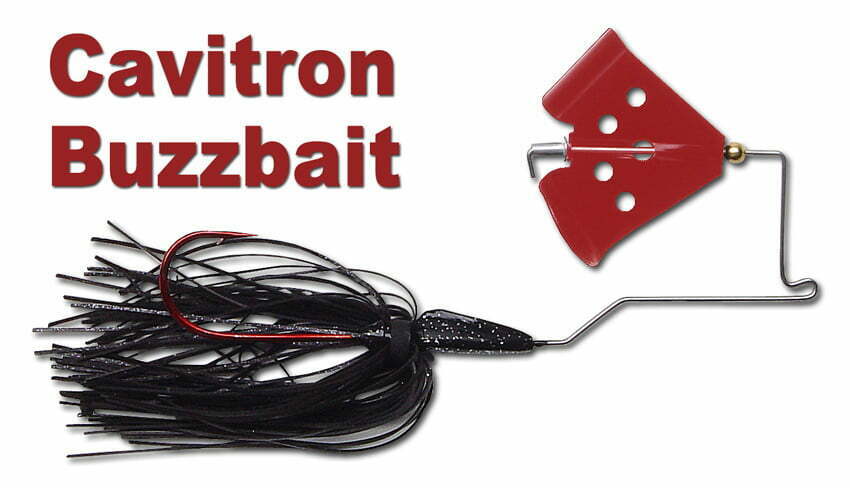 A killer Buzzbait that we recommend is Megastrike's Cavitron Buzzbait. It makes a great sound, has a water flow through the holes in the blades which add to the noise and bubble trail, and finally, best of all, it can be worked nicely and slowly. If you are having a hard time finding them, try this link.
One last Buzzbait tip: Every now and then, give the bait an extra, short and quick "pull" towards you. One little "zip" and then back to a steady retrieve… trust us on this one.
THE SPOON
We dare not leave out the #1 north-country lure choice of all time in this piece. No matter where we've travelled in the entire nation, a spoon has always played some kind of role in the catching of Pike.
Spoons work great early in the year but again, be prepared to possibly downsize a bit. This is the one bait Ang and Pete recommend bringing all sizes with you. If the Pike are anywhere near active, a big spoon will nab you a big fish. However, again, if times get sour and a front sets in, drop down a few sizes to something around 3 inches long. You're be surprised at how big a Northern will hit a small spoon.
As for colours?
Red & white… always have some
Five Of Diamonds (yellow with red)
Silver or Silver Blue or Silver with Green Glow
Gold or Gold Chartreuse or Gold Fluorescent Orange
Silver Gold combo
There are thousands of spoon colours out there and quite honestly most will work, but the above are our go-to colours.
Len Thompson and Daredevil/Eppinger are two great manufacturers of Pike spoons.
SHALLOW CRANKBAITS / SWIMBAITS
Ok we cheated, we mentioned 6 instead of 5 but that's because we feel these next two are tied and both need to be here. Read on:
A) – THE CRANKBAIT
Here's one that you might not have thought of: a crankbait that runs no more than about 3 feet deep.
Just like a spoon, a crankbait has a slow wobbling action that seems to drive Pike nuts (see the correlation?).
Here's where we somewhat differ from the other baits listed, with a shallow crankbait, we actually like brighter colours. Not sure why, but chartreuse, orange, yellow and red all have their place here. IF however, the Pike is not ramming your colourful offer, then you can try a mellower coloured version (natural patterns).
Finding larger, shallow running cranks can sometimes be difficult. The bigger Bass crankbaits work well here. Baits like the Strike King KVD Squarebill, Manns 1 Minus and at the bigger end of shallow crankbaits, the Livingston Bulldozer. All of these run that nice slow, back and forth wobble that drive Pike nuts. Of course, there's an array of other crankbaits to choose from.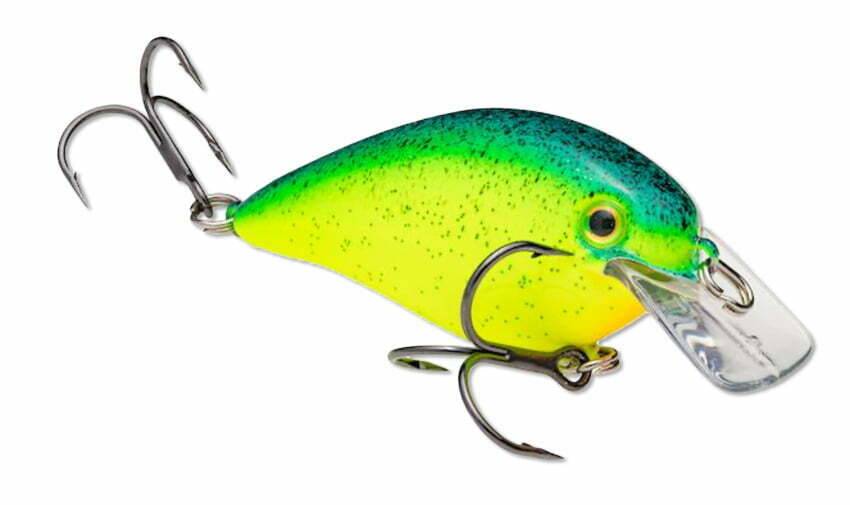 The crankbait is a fun lure to use early in the year. You fire out a long bomb cast, engage the reel and "slowly" creep that bait in putting in ever so gentle pulls and stops (remember the jerk bait section where pauses are a big deal???). A slight variance in the retrieve is key. The fun part is, when a Pike strikes, it's either full-on nearly rips the rod from your hands or they simply slack-line you (they grab the bait and swim towards you, thus creating slack in your line).
Set the hook, make sure the drag is set properly for long runs, and hang on!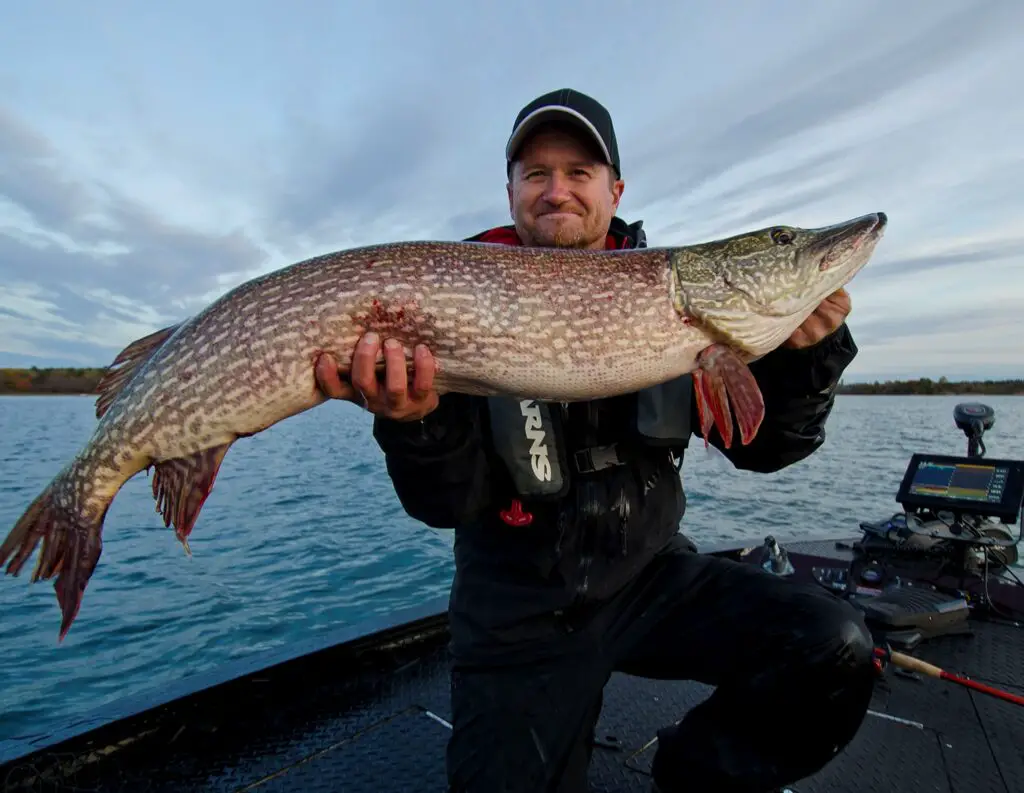 B) – THE SWIMBAIT
We love swimbaits for a lot of different species and Pike is one of them. Pete got onto a great swimbait bite in Saskatchewan on Long Mountain Lake during the filming of a past Fish'n Canada episode.
He tried a variety of different lures, however, it was the Swimbait that ruled. In fact, it happened twice at that location.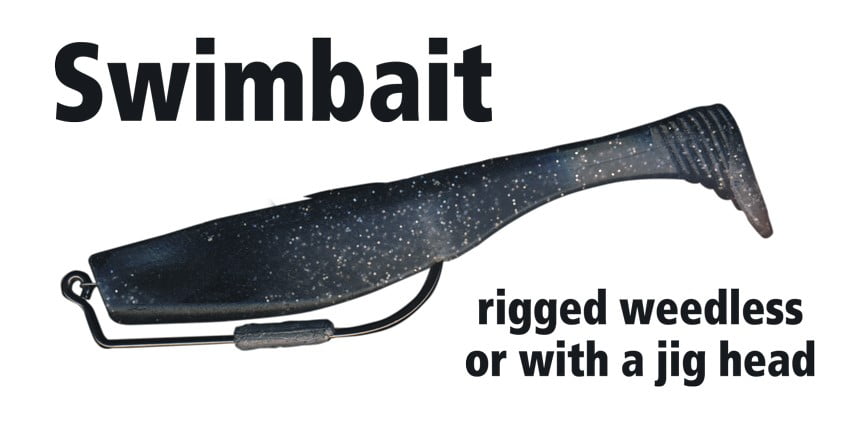 Of course, Pete and Ang have tried it other places since then and in the right circumstances, Swimbaits rock!
Again, we suggest smaller profile baits early in the season.
On the larger side, try something like a 5″ Big Hammer (what Pete used in Sask.) It's not long but it's deep from back to belly. For a thinner profile try a Keitech or a Jackall in the 4.5″ to 6″ range.
A slow steady retrieve works perfectly for Swimbaits. The tail action is all you need in the cool water.
SOME GEAR NOTES
LEADERS
Your leader choice is important. For instance, too heavy a leader (weight wise) will pull down a suspending Jerkbait. Too light a leader in strength for lures like Spoons and Crankbaits could break (we've actually had this happen).
Bring along different types, lengths and strengths of leaders. 12lb test to 50lb test is a good range
Make your own heavy fluorocarbon leaders with quality components, 50lb and stronger is a good reference point. Add a swivel only when necessary, i.e. spinners and spoons will twist your line, crankbaits, buzz baits and Jerkbaits won't.
Bring along some ty-able leader material like Knot Too Kinky just be sure to tie a proper knot from your main line to this material. That is the critical breaking point.
The suspending jerk bait is the most crucial of all the suggested baits to have a properly sized leader. Experiment to see which affects the lure's action the least.
STRONG HOOKS
Make sure all the hooks on your baits are not only sharp, but they are strong! We get that a #3 inline spinner has a somewhat smaller hook than we'd normally use for big Pike but that's the exception. With the crankbait, for instance, beef up the trebles a touch with thicker stronger hooks
RODS AND REELS
For the above presentations, we highly recommend baitcasting outfits. You can get away with spinning, however, baitcasting gear is the way to go. It's simply stronger and more efficient for these types of lures. Try medium-heavy rods vs heavy rods. The extra flex in the upper section (towards the tip) helps for casting and fighting fish.
LINE
Line type on your reel is a personal preference so we won't go into detail here. Remember though, braid has no stretch. This is good and not so good. All of the baits mentioned are steadily retrieved baits so if you are going to use braid, then that medium action in the rod mentioned above becomes even more important.
CONCLUSION
If you get the chance this year to hit the water for early Northern Pike, then prep yourself with some or all of the above suggestions. They have worked for us for many years, and continue to do so day in and day out.
If you can't get out on the water early enough this season, bookmark this article because we guarantee you, it's TIMELESS!!!
Take care.