Originally published November 22nd, 2019
Northern Pike in British Columbia? No Freakin' Way! BC is the Salmon capital of the world with various Trout species directly in line… right?
To try and prove our point, you've probably seen Angelo and Nik in a previous BC episode wailing on numerous giant Lakers.
Then it was Angelo and Pete's turn. Again, they pounded 'em! It truly is a Trout and Salmon mecca.
So, what's all this have to do with Pike?
Well to be honest, in our minds, BC is indeed the Salmon/Trout combo capital of the entire nation. However, our most westerly province is not just about those delicate, cold water, vibrant coloured beauties.
BC is working its way up the fish-ladder with another species that is the polar opposite to the Salmonoids; the Northern Pike.
Yep, you heard it right: Pike in BC!
For this shoot, Pete is on a return trip to Northern Rockies Lodge with Fish'n Canada's newest fishing addition, Steve Niedzwiecki.
They made the scenic trek along the Alaska Highway, taking in all the incredible wildlife and spectacular vistas the three-hour drive offers around every bend. Whether you're a returning visitor like Pete or a newcomer like Steve, the experience never fails to take your breath away. And all the while, they were pondering what great fishing adventures the lodge has planned for them. To imagine taking a personal "air" limousine and dropping into a cold, clear lake teeming with Pike is definitely a bucket-lister. Such anticipation.
A PIKE TRIP OF A LIFETIME
After loading up the floatplane and having a brief safety presentation from trusted pilot and lodge owner Urs, Pete and Steve boarded the signature Turbo Otter to scratch one more item off the list. Taking off from the blue water of Muncho Lake, where Northern Rockies Lodge is located, is, in and of itself, an incredible experience. If the drive up the Alaska Highway wasn't stunning enough, getting to see the wondrous terrain of the Rocky Mountains from the air will surely blow you away.
For this particular adventure, Urs navigated the plane through mountain valleys and over untouched Northern BC wilderness before delivering the guys to a body of water called Fishing Lake — a promising name, for sure. Urs told the guys this lake is swarming with big pike — words that will only get two guys like Pete and Steve crazy with excitement.
LET'S GET CASTING
With the floatplane docked and the Mercury's mounted on the small aluminum boats, the guys were ready to hit Fishing Lake in beautiful British Columbia for Northern Pike.
Steve armed himself with a couple of hard "glide baits", while Pete went with a variety of 5" swimbaits. Both are excellent starting choices. These were tied to baitcasting outfits with heavy braid or fluorocarbon line and everything cinched together by a wire leader.
They headed out to a major break (dropoff) in front of the biggest shallow bay in the area. This bay was laden with weeds and looked to be a perfect spawning bay in the spring. Since the boys were there in the summer though, deeper water was the plan of attack.
"The breakline was pretty easy to find," says Pete, "since the water was gin clear and greenish-blue. All we had to do was open our eyes, it was that evident."
With the boat situated on the furthest extending point of the break, the boys both fired out a cast.
Within no time, Pete's swimbait was engulfed by a gorgeous Northern Pike that was probably around 40″.
NORTHERN ROCKIES SHORE LUNCH
So far they've each made only 1 cast and boated 1 giant! The day was about to get silly!
From there on, Pete and Steve, simply put, pounded the Pike left, right and center. Actually, they did have to locate the fish. If they strayed off of the break too far, they went fish-less. That said, when they were in the kill zone, it was mayhem (and no, they didn't kill any fish, it's just a figure of speech).
Urs, however, did sacrifice a few smaller fish for a pure-pike shore lunch.
"When it comes to a shore lunch," says Steve "I consider myself an expert… in preparation and in execution!"
While Urs did all the dirty work of cleaning and cooking the fish, Pete and Steve stuck to the water and did all the hard work; hauling in giants.
Almost like pulling teeth, Urs finally convinced the boys to give the fishing a rest and hit the shore for the ultimate lunch break. Complete with all the fix n's, Urs really outdid himself. Pike truly is a delicious tasting fish and this man knew how to put on a spread!
"Urs's mix of fish and veggies is one I've never had," says Pete.
"And I plan on having it again at home on future fish-fries" finishes Steve.
Just to let you know how good the fishing is on Fishing Lake, Pete decided to make a few casts from shore before the feast started and caught 5 Pike in about that many casts. "They were all little fellers," says Pete "but it shows the Pike population of the lake, as well as reassuring us just how good our breakline hotspot was with the giants that were lurking there… no small fish!"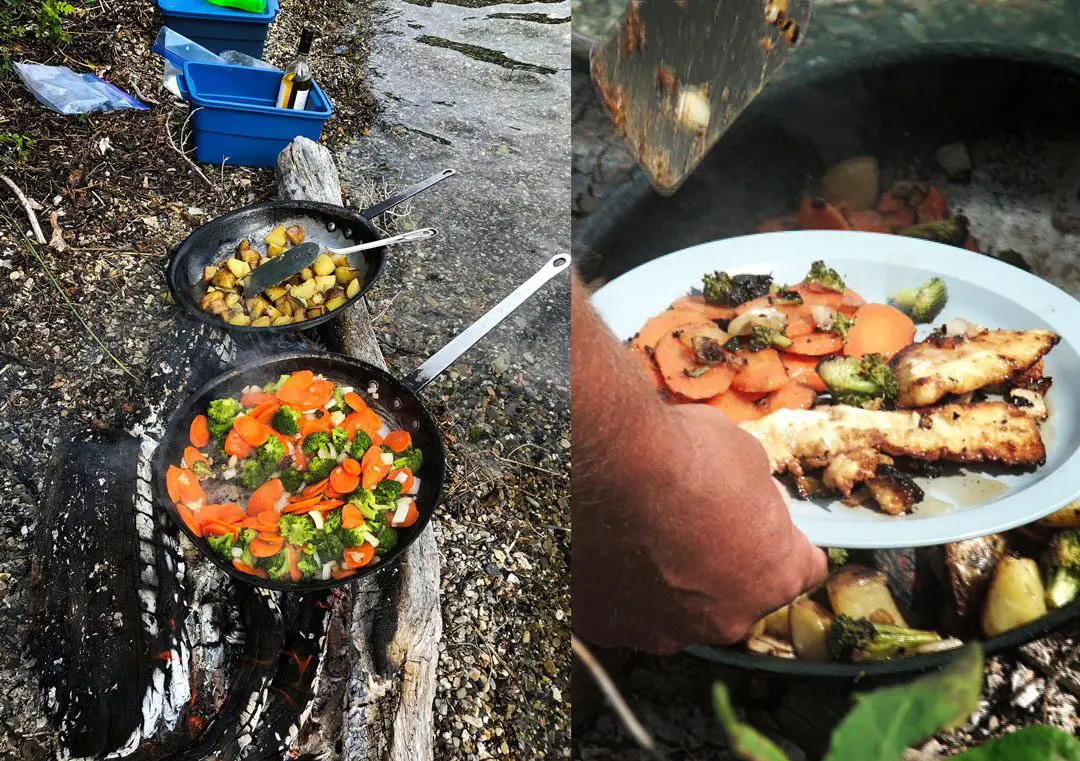 POST-BELLY-FILLING SHORE LUNCH
After the lunch break, the guys headed back to their honey-hole and STILL caught a bunch.
"What do you say we look at the other end of the lake?" questioned Steve to Pete.
"Sure" was the response.
As good luck would have it, the opposite end, much different than the first in structure and cover, also produced amazing results. This end was where the biggest fish of the day came from, "a true fatty" the boys called it.
As they always say, all good things must come to an end, and this day was no different.
The flight home was every bit as spectacular as the flight in.
"If you fall asleep on any of these flights," Pete says "you're probably a zombie."
MORE NORTHERN ROCKIES LODGE EPISODES:
https://fishncanada.com/tv-episode/ultimate-fishing-adventure-episode-470/
https://fishncanada.com/tv-episode/long-mountain-lake-ii-episode-482/
---
SPECIAL THANKS