Presented by Garmin
Mid-summer has a bad reputation amongst anglers targeting our cold-water northern gamefish, as the shallows warm and the spring fish activity seemingly dies down.
While we may not be able to bring these fish back to the shallows, we do have a few tips for you to keep the action going all summer long, starting with an explanation of where your favourite species might be spending the warmer months.
What is the Thermocline?
All bodies of water are made up of multiple layers, primarily determined by water temperatures. These layers are caused by a process called stratification, where warmer layers of water, heated by the sun, sit on top of the cooler denser water down deeper.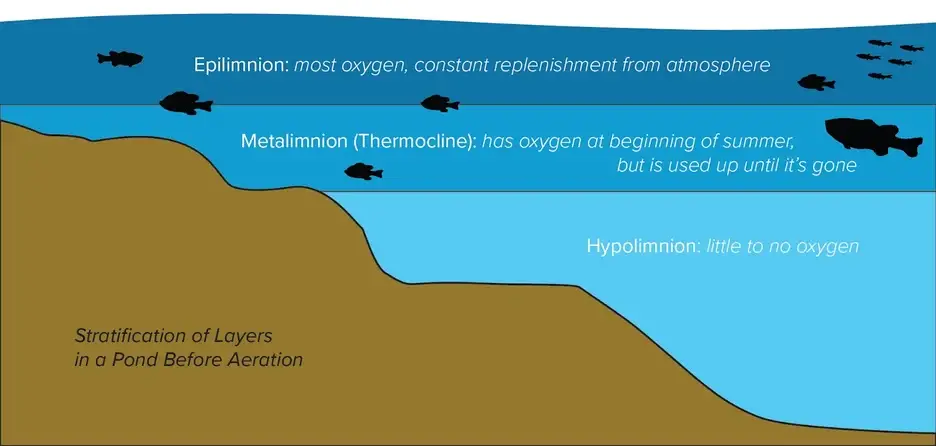 The thermocline is the transition layer between the warmer mixed water at the surface and cooler water below and is the main concern of anglers during the summertime.
The reason for this is due to the oxygen levels of the thermocline and the lack of oxygen in the Hypolimnion layer below. Since fish need oxygen to survive, this brings zooplankton, cool-water baitfish, and their predators, to this transition layer where water temperatures are comfortable and oxygen is high.
How to Identify It:
The depth of the thermocline can vary drastically from lake to lake, but will typically form around the 10-40 foot mark depending on the time of year.
Since few of us are keen on swimming this deep, fishfinders are the best way to locate this productive layer of water.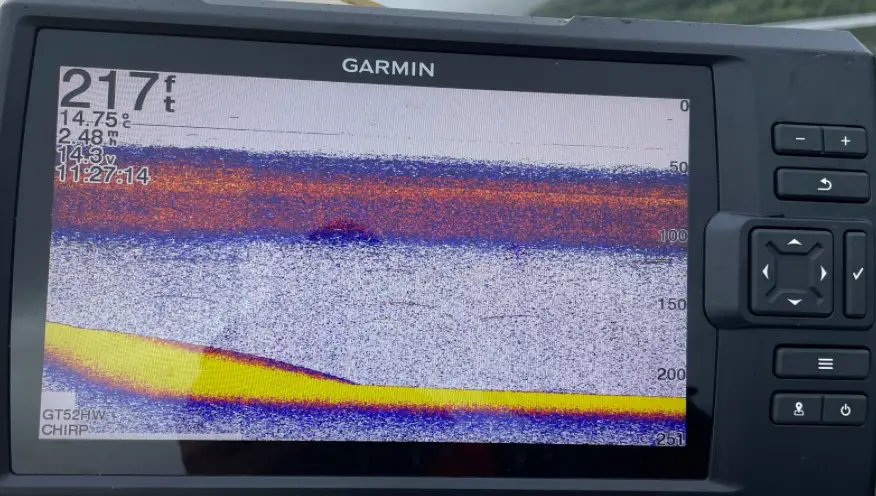 The photo above is a marine example, depicting a thermocline at over 100 feet of water. In lakes, however, the thermocline will look very similar, albeit quite a bit shallower. Getting your Garmin to reveal this layer is relatively simple.
The setting you're looking for is called Gain, the function that determines how sensitive your unit will be to disturbance/interference in the water. To find the thermocline, you will want this cranked up as high as possible. Here is how it is done on a Garmin unit:

What Species of Fish Occupy the Thermocline?
Most species of fish head to deeper water at some point of the year, but knowing when they do so can be a bit tricky. One of the best ways to know which species could be inhabiting the lake's thermocline is by understanding the preferred temperature of your target species.
As we discussed earlier, the thermocline is formed when surface temperatures warm and become distinct from the water below. For cold water species like Trout (Brown, Rainbow), Char (Lake Trout, Brook Trout), and Salmon (Chinook, Kokanee, etc.) their low tolerance for warm temperatures has them abandoning the shallows early in the year and sends them to the depths of these cool, temperature stable layers.
For species like Largemouth, Smallmouth, Pike, and Walleye, on the other hand, their warm water tolerance allows them to enjoy the warm surface waters much later in the year, not heading for deep water until the true dog days of summer. For a great guide on the preferred temperature of your favourite fish, check out the link below:
http://www.fishing.info/water_temp.html
With these temperatures in mind, keep an eye on those surface temperatures located on the left-hand side of your Garmin. If things are getting in the upper limit of your fish's range, it might be time to head for deeper water.
How to Fish It:
Once you have established that your target species is out deep, deciding how to fish them becomes the next piece of the puzzle.
When it comes to fishing this layer of cool water, one of the best ways to start is by trolling. Although it may not be applicable for those looking to add some deep-water Largemouth to their tournament bag, those after species like Lake Trout, Brown Trout, Walleye, etc. can do extremely well by trolling baits through this layer of cool, oxygenated water.
Baits like the Yo-Zuri Crystal Minnow Deep Diver Walleye (in Wonderbread colour, of course) are excellent baits for getting down to these depths, easily hitting the 30-foot mark when a sufficient amount of line is let out ahead of them. For those looking for fish spoons and other traditional trolling baits, downriggers and Lead-Core setups will likely be your best options.
For those who are looking for a more active approach to fishing the thermocline, verticle jigging can be just as effective once the fish are located. If this is your preferred approach, check out the article below!