On this Fish'n Canada episode, we travelled back to one of Ang and Pete's all-time favourite Walleye fishing destinations, Pine Portage Lodge on Kaby Lake. 
To the boys, this lake is mostly a numbers game. For sure it has some giants but, honestly, if you wanna' catch Walleye after Walleye, hand over fist, like 50 plus fish a day per person, Kaby Lake is the place to be!
For this trip, Pete was joined by Fish'n Canada co-host Steve Neidzwiecki. Steve's never been to Kaby Lake before and Pete had a good feeling that he'd be pumped!
TRAVEL TALK
The Algoma region of Ontario
Kaby Lake is nestled right in the middle of one of the best "all-around" Walleye fishing areas in Ontario, called the Algoma region. 
Fish'n Canada travels here at least two to three times a year to catch what is arguably the most popular fish species in the nation. The hub of this area is a town called Wawa. When you hit Wawa, you've hit Walleye country. The beauty of being here is, there are loads of easy-to-access lakes that you can hit on a daily basis. 
The Wawa Goose
As well, there are both drive-to fishing lodges, along with multiple air bases that access fly-in lodges. Something for everyone. Since Pine Portage is a fly-in lodge, we boarded our float plane right in the town of Wawa at Watson's Sky Base. They've been at the fly-in game for years. And trust us when we tell you, the flight into one of these remote lodges gives you the absolute best view of the pure Canadian wilderness. It's something you WILL NOT SEE anywhere else!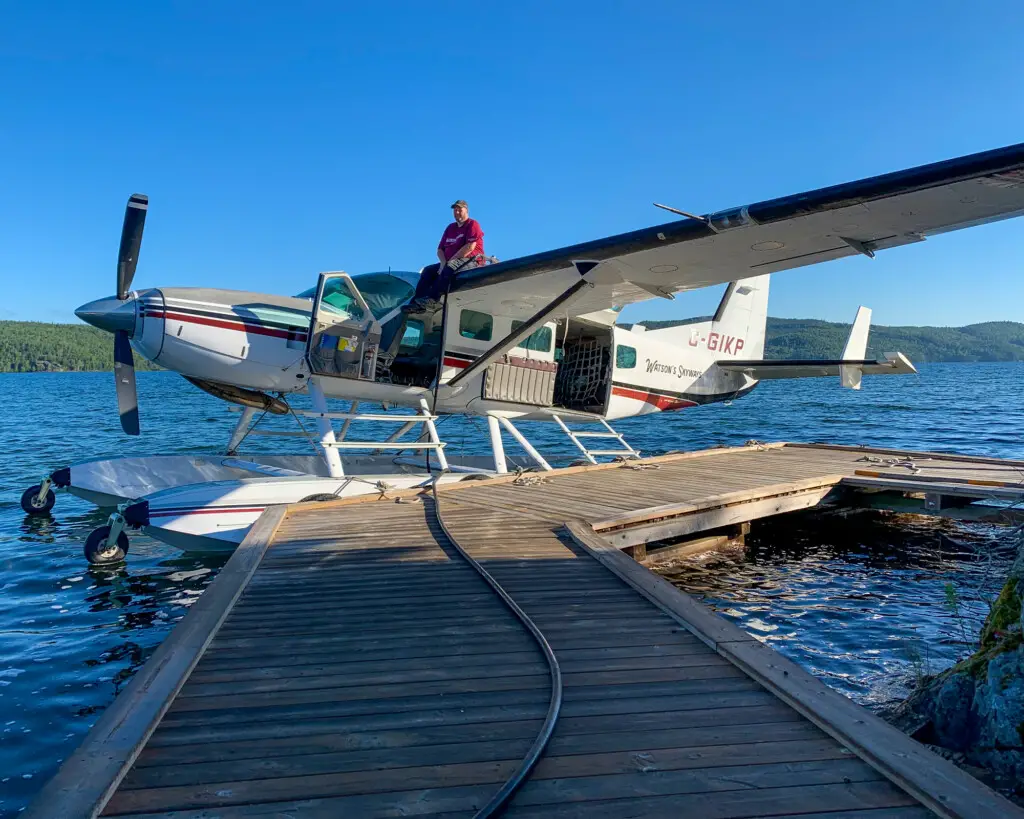 THE LAKE
With lots of bays, islands and arms, Kaby Lake is a true Walleye factory!
Kabinakagami Lake covers around 30,800 acres in the beautiful Canadian wilderness.  It offers fishing for walleye, northern pike, white fish, and perch, as well as hunting for bear and moose.
It's 25 miles long, 13 miles wide, has an average depth of around 10ft, and a maximum depth of around 50 ft.
It has an unbelievable amount of fish-holding structure and cover like islands, underwater shoals, long extending points both above and below the surface, bays of beautiful green weeds, sand flats, and even deep, open water with suspended fish.
Lake map courtesy of Navionics App website
Trust us when we say, this is what a perfect Walleye lake looks like.
THE FISHING
Trolling or casting crank and minnow baits was the desired technique. Of course, the jig and minnow option was always readily available if need be.
Pete and Steve started out trying two different presentations on this trip. They hit points, humps, and even open water trolling and casting "Walleye-specific" minnowbaits and crankbaits. 
They would also be incorporating the tried and true, never fail tactic of casting jigs tipped with either plastics or live bait. 
Their preference was using the hard baits to cover lots of water quickly… Kaby is a big lake, and the fish there are always moving around trying to find food. The boys used both shad profiled crankbaits, as well as deep diving minnowbaits that are all specifically designed for Walleye fishing. 
A "first cast" Walleye Pete caught on a Hardcore Shad 75SF in Hot Tiger colour, in a sandy-bottomed bay with weeds mixed in.
A MOVE TO TROLLING AMPED UP THE NUMBERS
After only a mediocre catch ratio of Walleye in the sand, Pete and Steve decided to start trolling their hardbait selection. They could see on the Garmin that there was no shortage of Walleye and bait is certain areas. The Walleye are pretty much stacked up around any good structure available. All the boys had to do was figure out a bait preference.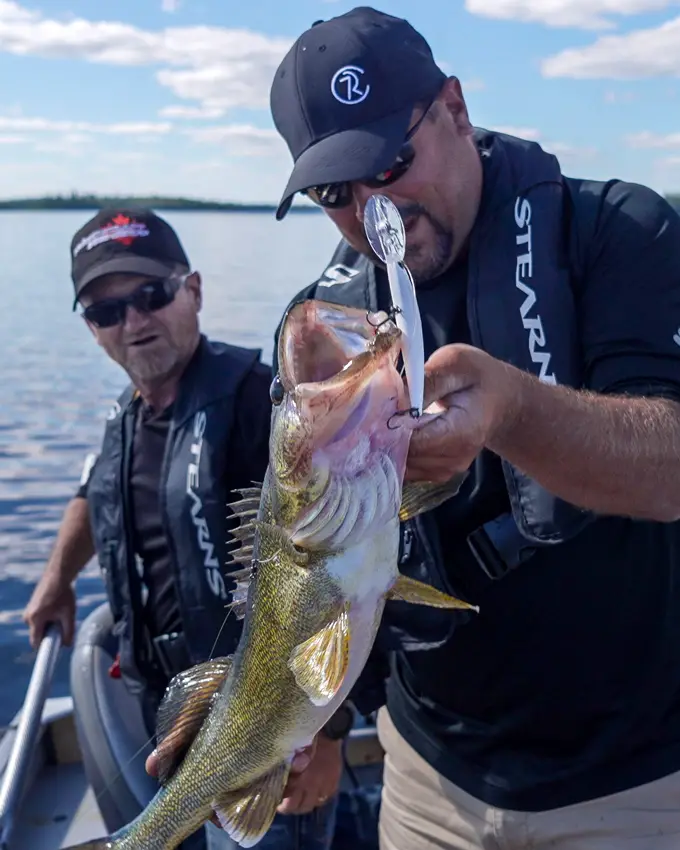 Steve with a great Kaby Lake Walleye
WE FOUND THE MOTHER LOAD… I THINK
The wind started to pick up, so we decided to look for new areas at the top end of Kaby Lake. 
Check out the above fish finder screen. It was almost too good to be true. With so many big fish, all in the same depth range, and grouped so tightly together, Pete's first thoughts were, those couldn't be Walleye. 
Maybe they were Whitefish?
Regardless of what we "thought" these hooks on the fishfinder were, we could not resist investing some time in this massive school…
AND unfortunately, all we could come up with was a little snot-rocket. 
"Quite honestly, to this day" says Pete, "we still have no idea as to what species the majority of those fish were".
SHORE LUNCH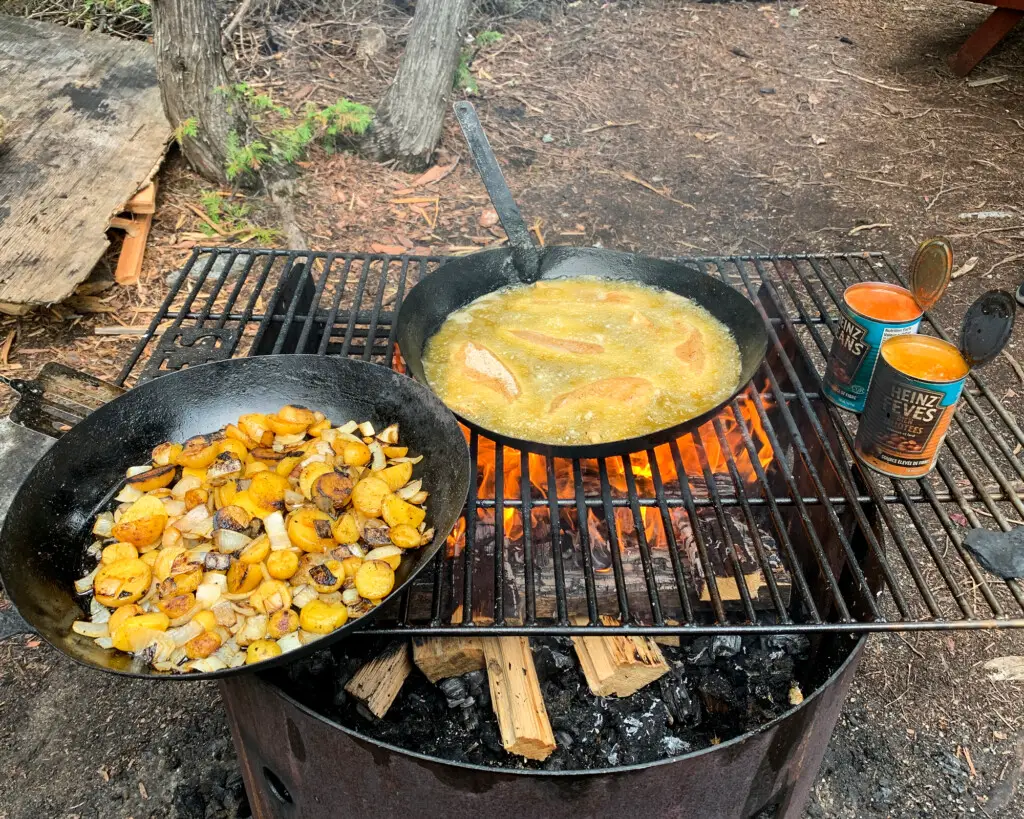 Something we highly recommend when travelling to a Walleye lodge is hooking up with the crew or your guide and setting up at least one shore lunch. And if you want to make your trip perfect, have one every day!
AND added to this… when we're at outpost camps, we will most definitely take it upon ourselves to whip up our own version of a shore lunch.
Heck, we've even had Northern Pike shore lunches in the middle of the Rocky Mountains… we'll take em' anywhere we can get em'…
And, of course, with facilities like Pine Portage Lodge, they make it SO easy for their guests. Your guide heads to a designated shore lunch area with Walleye and all the fixins' and starts the preparation process… ALL while you stay out fishing. Then when the dinner bell rings, you head to shore, beach the boat and make your way to a northern Canadian feast.
The Walleye are already cleaned AND cooked, and all you have to do is chow down!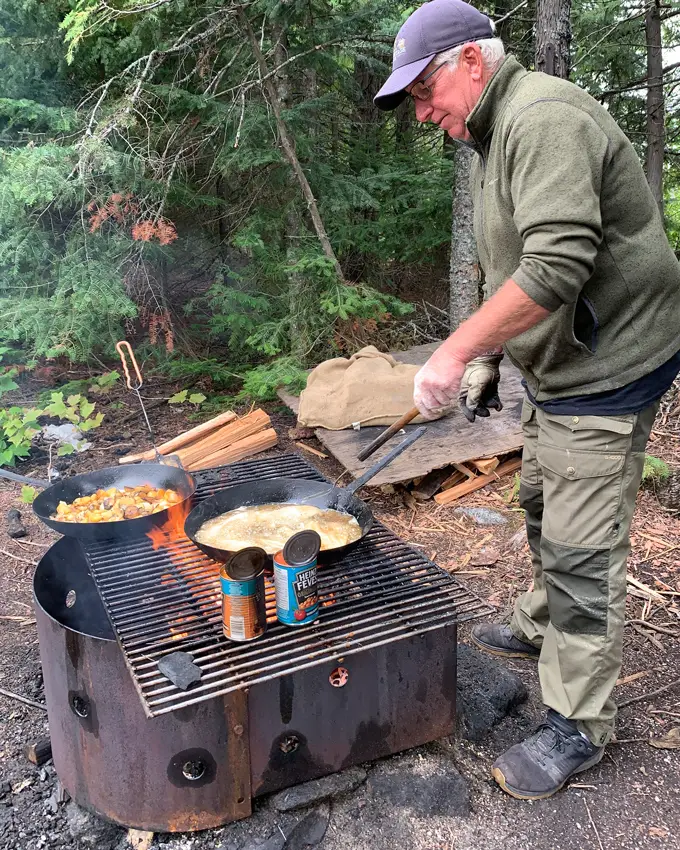 BACK TO FISHING
JIG FISHING: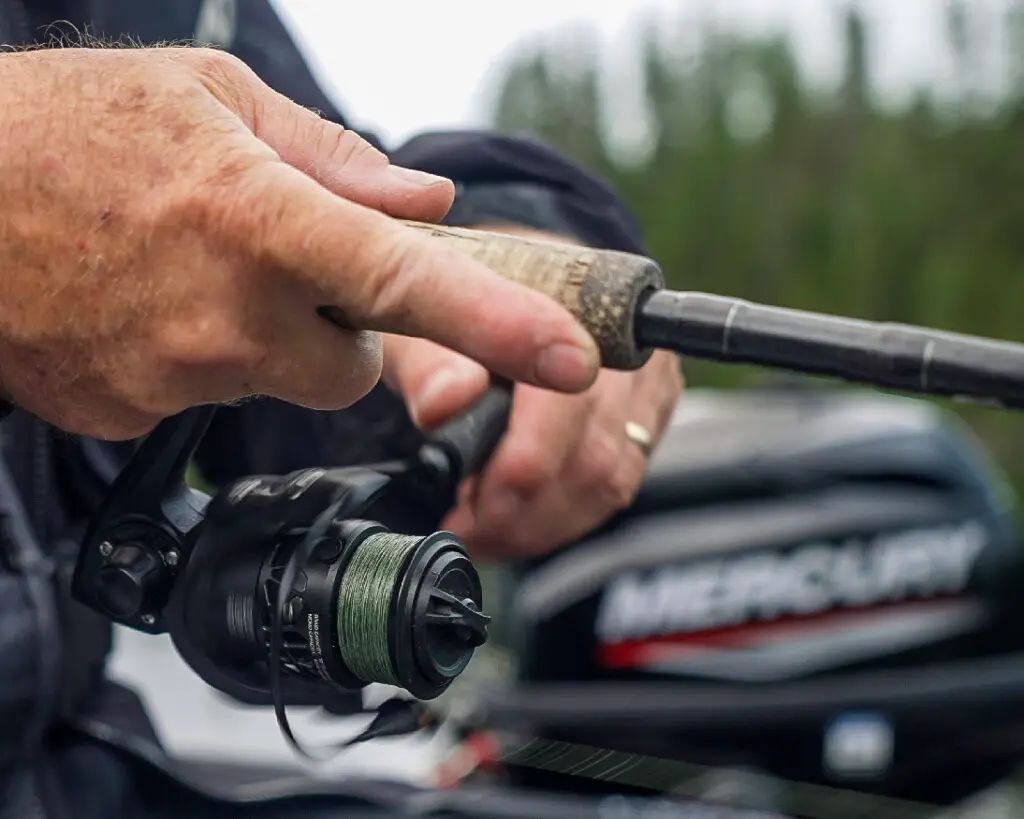 For a change in pace, and with our bellies full, Pete and Steve decided to take a break from the crankbait and minnowbait game, and try their hand at casting jigs. 
TIP 1: During the low light periods of a day, that's morning, evening and on overcast days, especially if they're windy, don't be afraid to go shallow for Walleye. 
Even in dead calm water, they actively feed in low light and the fishing can be lights-out!
TIP 2: If you are taking a trip into an isolated, northern Canadian lake, you really should be bringing in a portable fishfinder and better yet, a fishfinder GPS combo. Even in a fish-filled lake like Kaby, your electronics will be one of the most useful tools of your trip.
And our next spot we stopped at is a classic example. It was a long, underwater rock point that extended out from shore and into 15-16 feet of water. There seemed to be no fish on the rock point itself however with the quick scan of the LiveScope, the boys found some Walleye hanging off of the end of the point, relating to a soft bottom. They proceeded to pick off about half a dozen fish of various sizes including what Pete says is the best looking Walleye he's ever seen.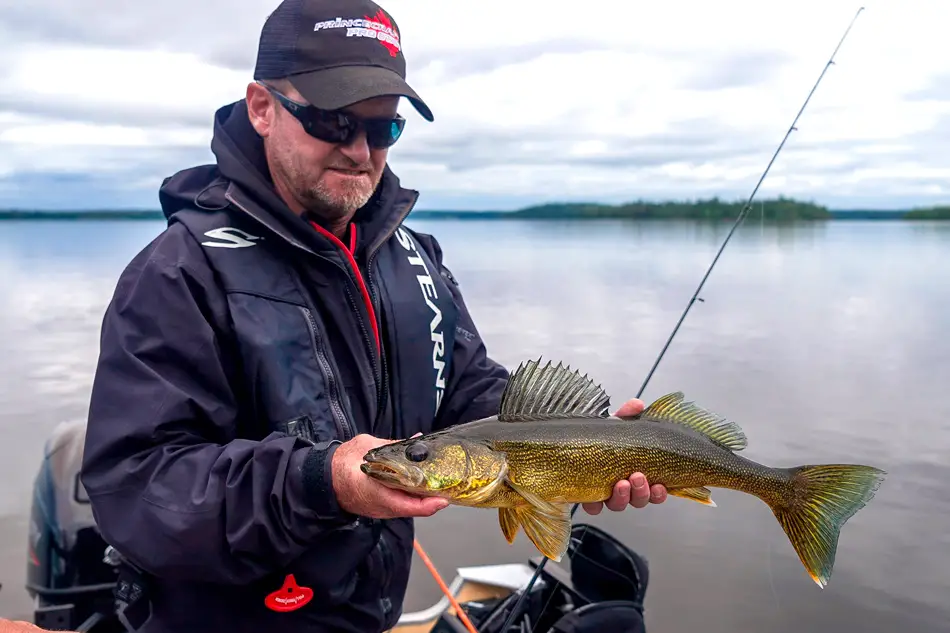 A LAST SHOT AT THE DARTBOARD (last fish, trolling in almost dark) 
So, while driving back to the lodge, with probably less than half an hour of daylight remaining, we located a deep area with lots of fish at different depths… unlike earlier in the show where Pete thought the fish were Whitefish, these were very reminiscent of Walleye. Steve decided to swim a jig while Pete pulled a minnowbait…
Instant couple of evening fish!
Had the boys had more time, this could have been the big-fish deal… Waypoint added, a future trip to Kaby Lake already in the books!
PINE PORTAGE LODGE
Pine Portage Lodge has been in operation for over 75 years! 
They're located 70 air-miles north of Wawa, Ontario, and offer first-class Meal Plans and Housekeeping packages. 
The lodge is fully licensed and provides amenities like Satellite TV, Hot and Cold running water, 24-hour electricity, and WiFi.
The Lodge is also equipped with a modern, full-service conference center and is able to cater to, and accommodate business groups, corporate events, business retreats, and more.