On this Fish'n Canada episode, Angelo ventures northward with his grandson "Niki" to a remote corner of Ontario, fishing on the renowned Montreal River. Their home base is Golden Eagle Camp, which is situated in Sidney Creek, one of many arms that branch from the main river.
One of the great things about drive-to operations like Golden Eagle is that they usually have all the amenities for the perfect family getaway. But, "make no mistake about it," says Ang "Nik and I don't have time to fool around. We're going to try and cram over 50 years of fishing experience into him in less than 3 days, fundamentals that will hopefully take him one step closer to becoming a more complete angler".
With that game plan, the V-team headed out on this vast river system to try their hand at the almighty Smallmouth Bass.
TOPWATER & SOFT STICK BAITS
With Angelo being such a topwater fishing nut when it comes to Smallie fishing, it was an easy path as to what Nik would be using. In rummaging through the buzzers, walkers, and gliders, Ang decided on a popper, one of his all-time favourites.
"I still don't see why it's called a pop R," asked Nik "why not call it a pop-gurgle or pop-splash".
Of course, Ang shook his head a bit on that one but did smirk deep down inside.
As a backup to the topwater presentation, the guys would arm themselves with sub-surface lures. The easiest to teach someone with is the almighty soft stick-bait, AKA the Senko. When we say "easiest", it's simply because one can literally do nothing but cast the bait out and let it sink. If there's a Smallmouth around, chances are it's going to bite.
MID-DAY LOWDOWN
After their arrival, settling in, and a chat with the head guide, the team set out to make some magic. The problem was, it was mid-day, which is not the best when it comes to topwater fishing.
This was the perfect time to allow Angelo to give Nik the lowdown on mid-day vs low-light patterns, etc. One-on-one lessons like this are extremely valuable.
"Well clearly we missed the top-water bite," says Ang. "We'll have to try again later, but for now it's time to go down under".
This was the start of Nik's soft stick worm lesson. Any slow-falling plastic bait is perfect for subsurface Smallie fishing, however, it seems that these soft sticks are the ultimate.
"By the way," says Ang "don't, for one minute, think that soft stick baits are the only plastics I use for Smallmouth fishing. I still love tube jigs, various drop shot baits, and flukes. They all work!"
PATIENCE PAYS OFF
Unfortunately for Nik, it did take some time before he hit pay-dirt. "This is all well and good," Nik said, "but if I don't catch a fish soon, I'm going to take up lawn bowling."
Patience young man, patience!
By the end of the day, in that perfect evening period, things started to happen. The guys were fishing back bays with lots of weed cover. It was so thick at times that Nik would have to pick and choose "alley-ways" as a route to bring his topwater back on. In doing so though, it in itself is a great technique. Keeping that bait working all the way back to the boat.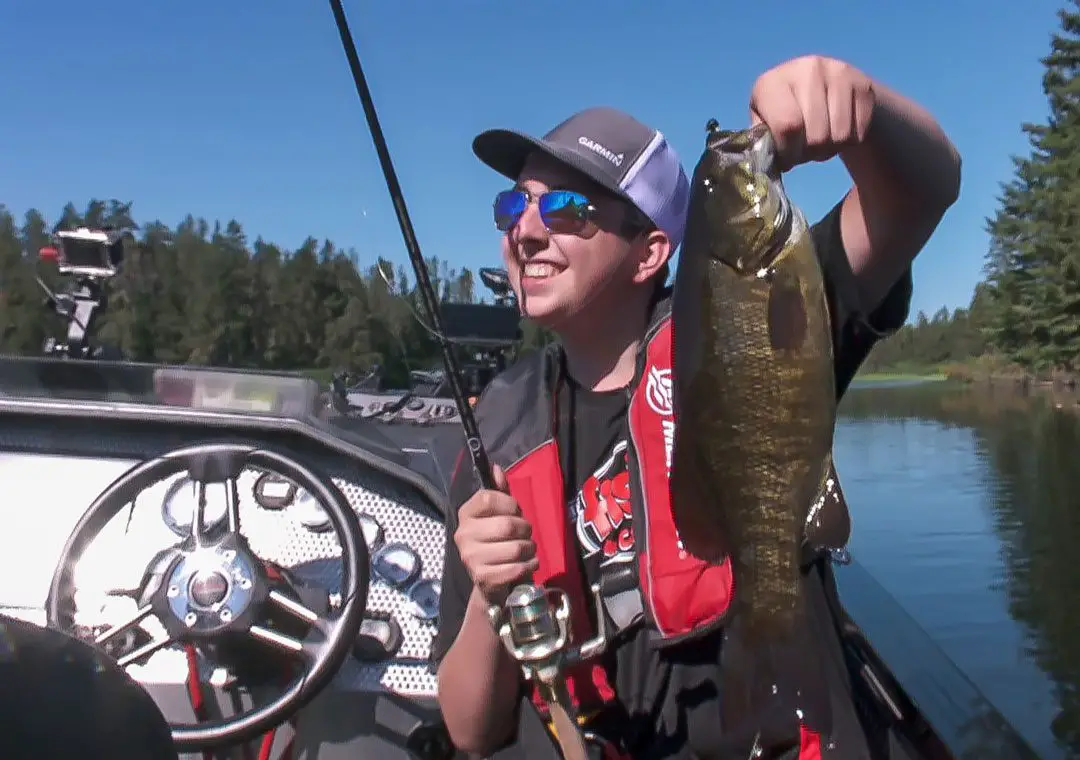 "Between the topwater and the plastic," says Ang "my little buddy Nik (not so little anymore) made me proud. At a time when the fishing wasn't going absolutely gangbusters, he managed to catch some great Smallmouth Bass, along with a real giant… his biggest by far to date!"
IN CLOSING
Fishing can mean different things to different folks. At the end of the day, it should all be about having fun.
"Nobody has more fun fishing together than we do," states Angelo. "And that ladies and gentlemen is precisely why we all fish. Moments like this can not be replicated anywhere other than fishing, I love this game!"
---
SPECIAL THANKS