The ultimate in live viewing just got better! Marine electronics masterminds Garmin are at it again. They have taken their ground-breaking LiveScope system and made it even better. Introducing LiveScope Plus which offers improved resolution, reduced noise, clearer images and better target separation. 
Here's what Garmin says is new:
See images clearly with improved screen clarity, transducer sensitivity and target separation.
Scan surroundings with sharper images, reduced noise and fewer sonar artifacts.
Get maximum contrast and clarity in your images with vivid color palettes.
Don't miss a thing with supported Forward, Down and Perspective modes and necessary mount.
And the best of all, Upgrade your current LiveScope System black box (GLS™ 10 sonar module) with just a new transducer.
Here are a few screenshots of the new system in action:
FORWARD MODE
Scout ahead of your boat to see what's happening in real-time.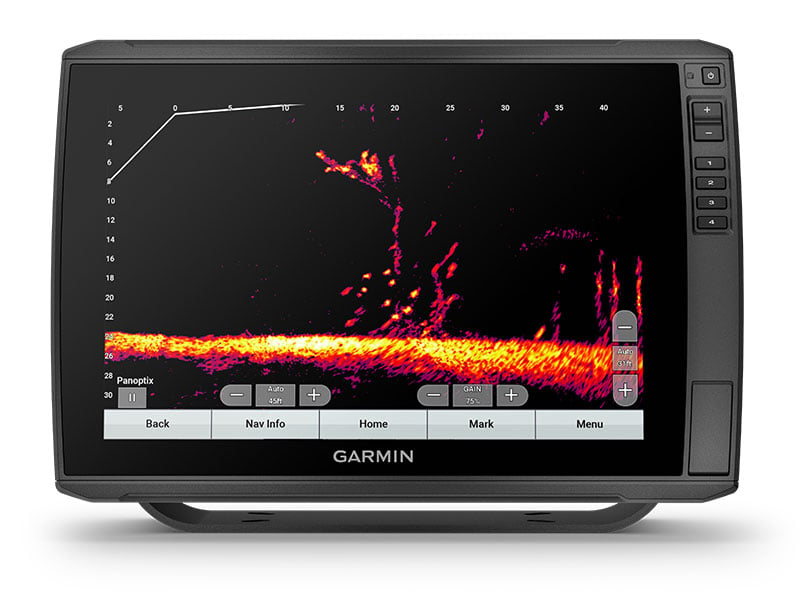 DOWN MODE
Explore live views of the activity directly beneath your boat.
PERSPECTIVE MODE
See under the water with a view from your perspective above the water.
For those looking to upgrade, Garmin says that the LiveScope Plus System will include a compact GLS™ 10 black box with a LiveScope Plus LVS34 transducer, along with a trolling motor barrel and shaft mounting kit, perspective mount bracket and a simple plug-and-play Garmin Marine Network connector for easy installation and integration with a compatible chartplotter.
With a free software update, the LVS34 transducer (sold separately) can be added to an existing LiveScope System black box for customers who want to upgrade.
As many of you know, Ang and Pete are huge users and believers in Garmin's LiveScope technology, and with this new upgrade, they cannot wait to get out there and test it!