QUINTE LARGEMOUTH WITH A BUD
I recently had a chance to head out on another late Largemouth Bass expedition, this time to the Bay of Quinte area. Last November good buddy Mike Burriss from Napanee and I got together for a long-overdue fishing trip that just so happened to be on the closing weekend… not the best timing for Largemouth. At the end of the day, we said lets do it again but next time, a little earlier in the season.
October 20th was our fishing day, almost a full month earlier than last year. We made our way to last year's location which has been very good for me in past falls however after a few hours of fishing we knew it would be tough. We had 7 Largemouth in the boat with none being over the 2 & a bit pound range and Mike had a nice Pike around 7-8 lbs.
We had been talking about a weedbed that was on fire about a month earlier but weren't sure how the fish would react (if even there) when the water was 56-57 degrees.
After a bit more deliberation we decided to take off.
On our way to the weedbed we decided to hit one of my old fall areas that used to be dynamite in October especially on Spinnerbaits. Unfortunately, the water was dirty and the fish were nowhere to be found.
We picked up and tried our next spot… one of those areas where we both know there's fish around but have no clue as to what to expect in this cold of weather.
It didn't take Mike long to pick up our first Quinte Largemouth… and then another. Both were on a Spinnerbait; a great sign. We were fishing a small shallow bar that dropped into slightly deeper water with the odd weed clump in the vicinity. In the meantime, I porked a small Pike and then got drilled by a gorgeous Quinte Northern probably pushing up to 15lbs… a great fish on the Q! It hit a KVD Squarebilled 2.5 Crankbait in Sexy Shad color with no leader on a relatively light line. This is almost the exact bait I was using on my last successful Bass trip a couple of weeks previous to this one. That day I downsized to a 1.5. I figured maybe bigger bait would equal bigger fish.
We worked that immediate area pretty hard and Mike pulled in another small Pike but the Bass just weren't bunched up there. We made a small move towards deeper water with thicker weeds and that's when all hell broke loose. With only a couple of hours left in the shortfall day, we proceeded to pound the Largemouth… no more Pike, no Smallies, no Walleye… just gorgeous green late fall Buckets!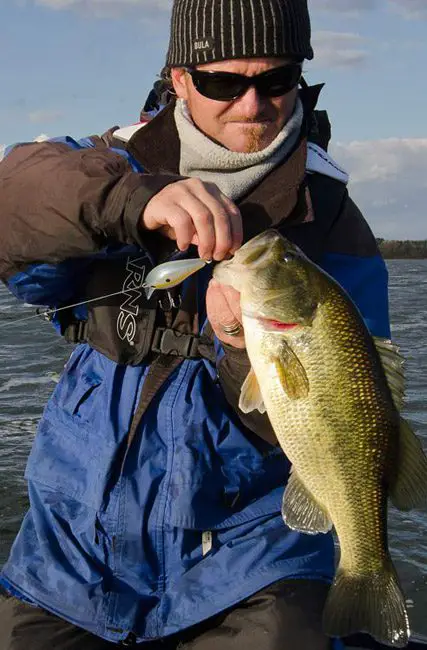 The KVD was killin' them for me and Mike changed from his Spinnerbait to a Chartreuse (I think it was a Bagleys) crank in a slightly smaller size with amazing results as well. At one time I set the hook and said to Mike "buddy this is a bigger fish… it doesn't feel the same as the others" and no sooner were those words out of my mouth then KER-SPLASH… 2-three pound Quinte Largemouth jumped at the same time… with my Crankbait in their mouths! Mike and I both literally laughed our butts off! Unfortunately one pulled off shortly after the jump but honestly, we forgot our net so I wasn't in any hurry to stick my hand near those 6 hook points and 2 thrashing Bass.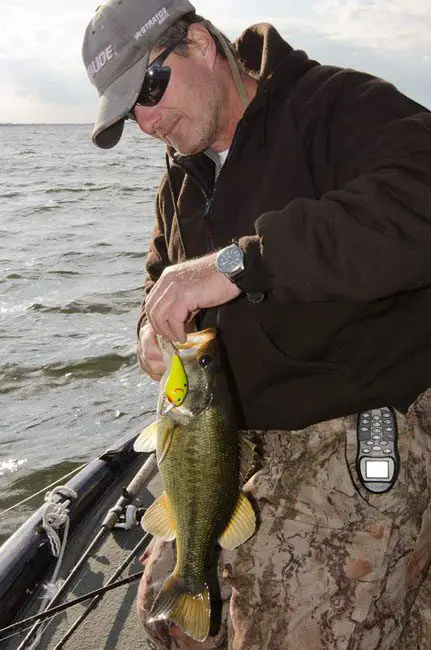 Since I like to figure things out on almost all my fishing trips I decided to try my old fall Spinnerbait tactic… slowly reeling a tandem Colorado light colored bait just under the surface. The key to this fall presentation is the big back blade. I use a #5 cupped Colorado which makes an incredible amount of vibration… it's usually referred to as a Thumper. It didn't take long for a hit on that bait but I noticed my skirt was ripping off. I decided to change to a new bait with a bit of modification. I had previously taken a Megastrike Strike Back Spinnerbait (Willow/Colorado was all I had) and converted it to a double Colorado with one of my big Thumper blades. Success again, the Largemouth loved it. The best thing about this bait is the fish can suck in the hook much easier than a conventional Spinnerbait and they have a really hard time throwing the hook. I do see on the MegaStrike web site that there is a double Colorado version of this bait available… should be deadly in the cold water period.
All in all, this was definitely my favourite Bass fishing day of the season. Normally I wouldn't say that unless there was a 5+ pounder involved but just putting things together in the harsh fall conditions is to me, a very satisfying accomplishment.