Ontario is truly one of the ice fishing capitals of the world, with thousands of lakes in every direction teeming with world-class fish. Many of the province's best fisheries, in fact, can be accessed within just hours of some of our major cities.
That is why we decided to put together a list of 5 of our favourite ice fishing destinations in the province.
As a quick note, compiling a list of just 5 ice fishing destinations in this great province is a near-impossible task. So to make it more achievable, we are only including cities that have more than 10,000 people to help narrow down our talent pool. So to all of our readers in Fort Frances, Bancroft, Wawa, or any of the other great fishing towns around Ontario – don't worry, you were not forgotten.
So with that disclaimer out of the way, in alphabetical order, here are some of our favourite ice fishing destinations in Ontario!
1 – Belleville/Prince Edward County
Bay of Quinte is near and dear to us here at Fish'n Canada, being the home of Pete Bowman and providing Ang and Pete with decades of incredible fishing adventures.
Although many of our shoots here have revolved around open water, "the Bay" is one of the top ice fishing destinations in the country with world-class walleye accessible right within city limits.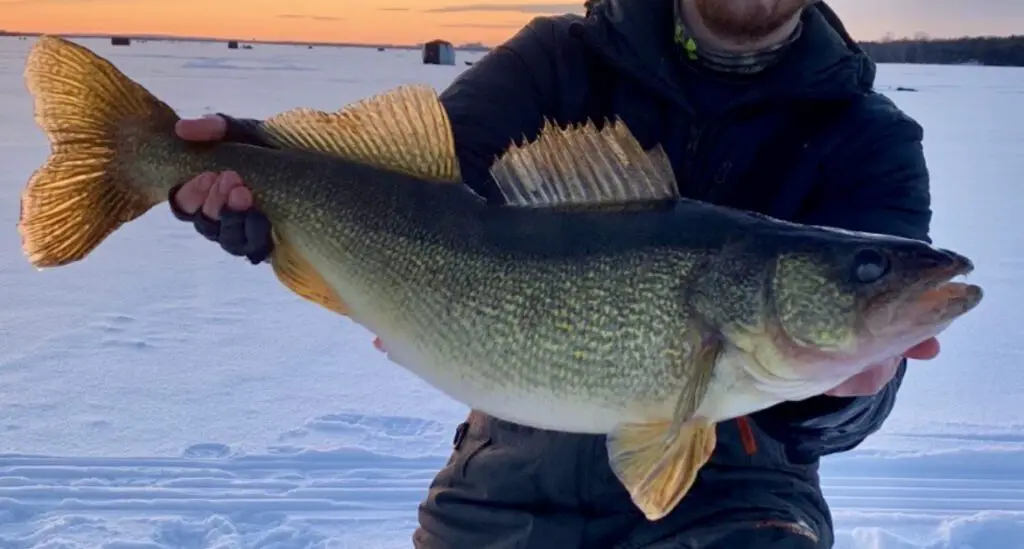 Belleville is the main population center on the Bay of Quinte, located on the north shore and providing travelling anglers with plenty of options for food and accommodations. From here, anglers can access the entirety of the north end of the lake, fishing Big Bay right from Belleville, making a quick drive west to the Trent River, or driving east and fishing Deseronto and Napanee. These areas all hold the potential for massive Walleye, and also contain thriving populations of Perch and Pike.
Those looking to fish the southern end of the lake can also head down to Prince Edward County and explore the towns of Picton, Wellington, Cherry Valley, Conscecon, or any of the other fishing-focused centres located throughout "The County". These towns also provide access to smaller lakes such as East Lake, West Lake, and Conscecon Lake.
2 – Kenora
Kenora may be the muskie capital of the world but, unlike its renowned fish, this city does not take the winters off.
Located along the shores of one of the most sought-after fisheries in North America, Lake of the Woods, and surrounded by a spattering of small lakes and rivers to the north, Kenora truly is an ice anglers' paradise.
On Lake of the Woods, anglers can search for trophy-sized Lake Trout and Walleye, as well as find stable populations of Lake Whitefish, Perch, Crappie, and Pike. For those looking for a more tranquil experience, the hundreds of smaller back lakes to the north, west, and east of Kenora will offer the same opportunities in a much more remote setting.
3 – North Bay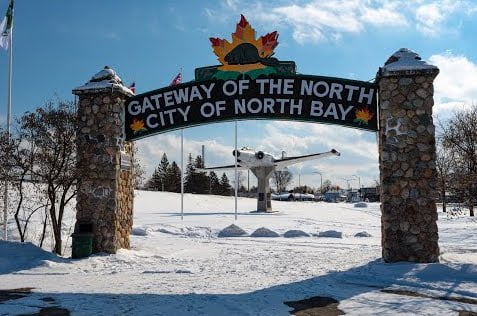 North Bay is another premier destination for ice fishing in Ontario.
For starters, North Bay is located right on the shores of the renowned Lake Nipissing, the third largest lake in the province (excluding border lakes). Here, anglers can find a variety of fishing opportunities, whether it be jigging for Walleye, setting a tip-up for Northern Pike, or staying out late and dropping a line for Burbot. This lake is also home to a wide variety of outfitters that offer excellent ice fishing packages and ice fishing hut rental services, many of which can be found here.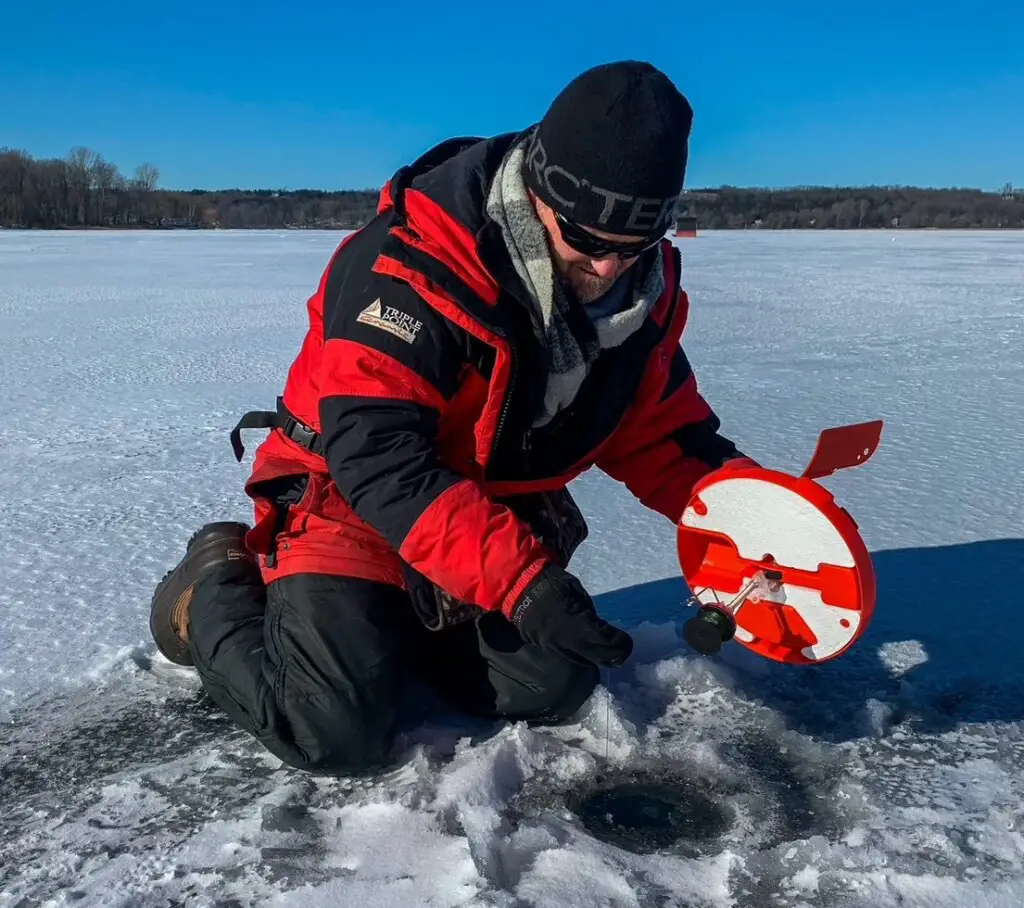 Getting outside the city, North Bay is just an hour and a half from Muskoka to the south and Sudbury to the west – a trip that will have you passing hundreds of lakes with endless ice fishing opportunities along the way.
4 – Orillia
This spot on the list is more dedicated to the great Lake Simcoe than any specific city, but the town of Orillia is certainly the best situated.
Directly to the south of Orillia, anglers have access to one of the larger sections of Simcoe, last to freeze but certainly worth the wait. To the southwest (towards Barrie) Kempenfelt Bay is an excellent option for anglers seeking Lake Trout and Whitefish. And directly to the south, straight across the lake, lies the legendary Cooks Bay, home to some of the best Perch fishing in the province and one of the most popular spots for anglers travelling north from the GTA.
If you're looking to rent a hut for the day or get more info on fishing Lake Simcoe, check out Lake Simcoe Outdoors.
To the north, Orillia also lies on the shores of Lake Couchiching. This lake, though smaller than Simcoe, also holds plenty of Perch and Pike and tends to freeze up much quicker than the giant of a lake to the south. Similar to North Bay, Orillia is also just a short drive away from Muskoka and the hundreds of fish-filled lakes that call it home.
5 – Thunder Bay
Similar to Belleville, Thunder Bay is a true ice fishing hub, providing anglers with access to a wide variety of fishing opportunities.
To the west, the popular Lac des Mille Lacs hosts thriving populations of Walleye, Pike, Perch, and Burbot. To the east, anglers can find some of the best Yellow Perch fishing in the country fishing on Lake Superior's Black Bay. Here, fortunate anglers may also run into Northern Pike, Rainbow Trout, Whitefish, and Walleye.
To the north, a quick look at any map will reveal the endless number of small back lakes in the region, many of which are home to Walleye, Whitefish, Pike, Perch, Lake Trout, and Brook Trout. To find the lake containing the species you're after, use the species filter in Ontario's Fish On-Line Tool.
Conclusion
As mentioned at the start of this article, selecting just 5 ice fishing destinations in this great province is no easy task but we hope this list makes planning your next ice fishing adventure a little easier.
As a final note, when fishing any frozen lake, safety should never be taken for granted and no fish is worth falling through the ice for. To make sure you're prepared for the worst-case scenario, be sure to check out our Guide to Ice Safety before hitting the hardwater this ice fishing season.