Hi all, on this Fish'n Canada episode we took on the mind frame, as they say, AGAINST THE GRAIN. We hit what is known as arguably one of not only Ontario's, but one of Canada's, premier Walleye lakes… BUT… we were not fishing for Walleye… BUT, as per usual, there is a method to our madness.
We were on a phenomenal Walleye producer called Hawk Lake, but our timing couldn't have been worse. It was smack-dab in the middle of the fall turnover. Through the years we have found that late in the season, there's a timeframe where the Walleye will almost completely shut down… they seem almost impossible to catch… at least for us…
So instead of racking our brains trying to figure out all things Walleye, we did as we normally do, bailed on Canada's favourite species and fell back on a great reserve species – the Smallmouth Bass. We're happy to say that during those late-season Walleye lulls, the Smallies sometimes don't seem to be "as" affected, so for this Hawk Lake trip…. Smallmouth it was!
Once into the Smallmouth war zone, things slowly but surely ramped up. The first area we hit was close to a big spawning bay that we had fished back in 2017. That shoot, however, was early in the year and had quite a few Smallmouth cruising around the shallows. They were easily visible. On this shoot, things were much different. It was fall and the water temperatures were on the decline. Those spawning areas were pretty much void of fish. That said, the majority of Smallmouth in the expanded area would still be "around", we just had to find them.
Working a bank that dropped into 10-12 feet deep was our first area of making contact with fish. We did pick up a couple on fast baits (Ang on a Spinnerbait & Pete on a Chatterbait) but the majority were caught on soft plastics like shad style baits and or craw style.
"It certainly wasn't fish after fish," says Ang "which was obviously due to the turnover period. However, there are always some fish that will bite no matter what time of year it is".
A Bit About Hawk Lake Walleye
As you have probably heard in the past from not just our show but from many who have experienced this fishing oasis, Hawk Lake is "absolutely spectacular" for Walleye. We have not been on a better lake when it comes to the size of the water vs. the size of the fish. For a relatively small lake, it pumps out giant after giant every season… it's that good!
That said, the Smallmouth Bass fishing on Hawk is also one of those "must experience" fishing trips.
Back to Smallies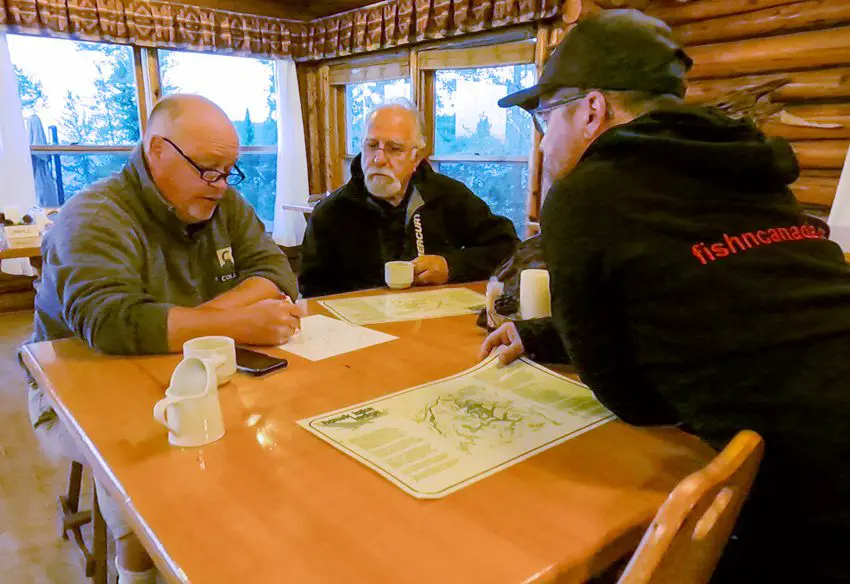 Our next area was a much steeper dropping bank with lots of wood and rocks along the bottom. There were also a few weedbeds around (rare on Hawk) that all seemed to hold fish.
Since this steep dropping bank drew up zero strikes with the fast-moving baits, the boys resorted to "dragging" plastics.
"Dragging is such an effective way of catching Smallmouth Bass," says Pete "it works on the concept of the less you do, the better it is. If you have nerves of steel, you can hold your rod while dragging. If you are a jumpy kind of person, you are honestly better off setting your rod against the gunwale of the boat and watching your rod tip. Once a fish picks up your bait, give it a couple of seconds and then sweep-set the hook".
"Big brother Reno was the master of the Smallie drag," says Ang "he'd fire out a cast, drop the rod to the bottom of the boat, grab a sandwich, and wait. Pete and I would be all amped up waiting for a fish with fishing rods in hands and Reno, he'd just pick up his rod and go "THERE'S ANOTHER ONE BOYS"! Of course, Pete and I have learned to swallow all pride on current trips and now we too will stop, drop, and drag to get the job done".
Smallmouth Presentations On Hawk Lake
Something that we always consider when going to a lake with multiple gamefish species is to bring extra rods, reels, terminal tackle and lures as a backup. On this trip, had we only brought Walleye gear, we more than likely wouldn't have done nearly as well!
On this outing, we relied heavily on plastic baits. Reason being, they're extremely effective when the water temperature is dropping.
That said, we certainly didn't neglect firing out some power presentations in the form of Spinnerbaits, Chatterbaits, Crankbaits, Jerkbaits, etc.
SOFT PLASTICS FOR SMALLIES
Here are some of our favourite soft-plastic styles of baits for Smallmouth: Yamamoto craws and shad imitators, Megastrike tubes and swimbaits and Z Man TRD's (Ned rigs).
FAST AGGRESSIVE BAITS FOR SMALLIES
The fast-moving baits that Ang and Pete consistently throw for Smallmouth are Minnowbaits and Crankbaits like the Yo-Zuri's above, as well as an assortment of bladed baits like Spinnerbaits and Chatterbaits.
Location
Hawk Lake Lodge is situated just south of hwy 17, west of the town of Dryden and east of the town of Kenora. This truly is in the heart of fishing country. In fact, if you took a 50-mile radius around the lodge, you would find an extraordinary amount of great angling opportunities.
Hawk Lake has 2600 acres of prime fishing habitat. The only boat access is a launch at the lodge. The guests have access to 19 private lakes as well. You can choose a different lake each day and you will be the only boat on the water.
From The Hawk Lake Website:
Come to Ontario's rugged Canadian Shield and discover a fishing resort like no other, the legendary Hawk Lake Lodge.
Experience some of the best freshwater fishing in North America at Hawk Lake Lodge. World record catch and release walleye and smallmouth bass as well as pike and lake trout on 17 private lakes in world-class accommodations. Carefully designed as a private retreat for twenty-four guests, Hawk Lake Lodge offers not only the wilderness and solitude you hope for but a quality angling experience topped by what many other destinations overlook… the finest in accommodations, personal service and dining as well as access to some of the best, unspoiled, light tackle sportfishing lakes in Canada. The lakes surrounding Hawk Lake Lodge have produced multiple catch and release world records including a walleye at 37 inches, and smallmouth bass at nearly 9 pounds!
Discover Your Own Private Angler's Paradise
At Hawk Lake you will fish over 30 square miles of pristine, rarely fished waters. 5 different trophy species await you from pike and walleye to lake trout and even black crappie! Imagine you are the only person on a remote wilderness lake. Hear the smooth sound of your cast. Feel the quick snap of the strike and the strength of a trophy fish at the end of your line. That angling experience is at its best at Hawk Lake Lodge in Kenora, Ontario. We have spared nothing to ensure that each visit exceeds your expectations.
---
Things To Do In Dryden Ontario
If you want to learn more about Hawk Lake and all the stops we made while filming this episode, check out our article over at the Northern Portal.
---
Conclusion
So just to reiterate, when you're on a lake and your proposed "target fish" is essentially turned off, don't be hard-headed about it, switch gears and take advantage of the opportunity to enjoy another species and make the best of every fishing trip!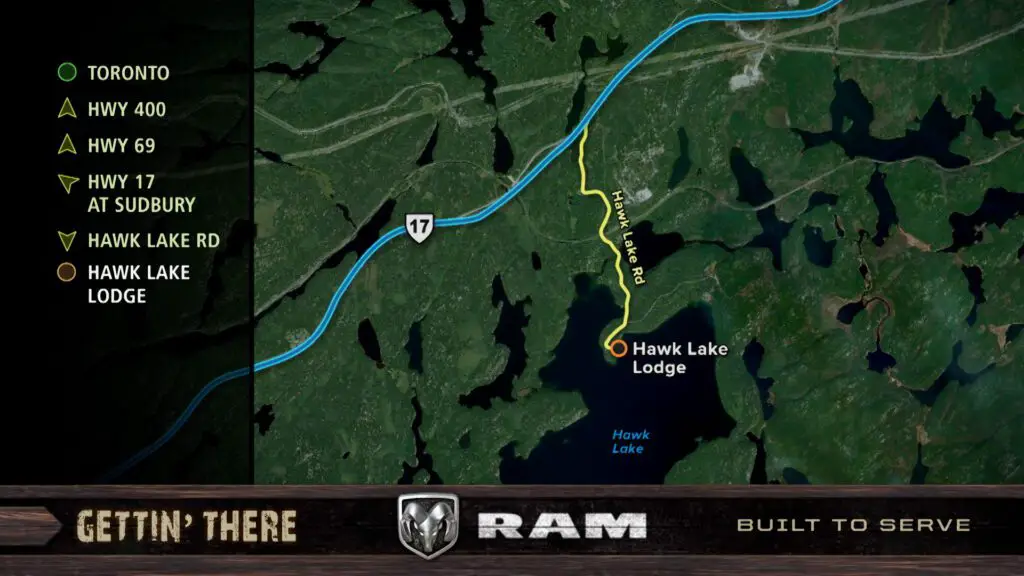 To get to this episode's fast Smallmouth Bass action, Pete and Ang first drove north on Highway 400 to Hwy 69. They then took Hwy 17 north-west all the way past Dryden and just east of Kenora. They finally turned south on Hawk Lake Road, taking them to the beautiful Hawk Lake Lodge. This award-winning facility is the epitome of "you've gotta' experience this at least once in a lifetime". On past trips the boys have put a bunch of gigantic Walleye in the boat, and the Smallmouth fishery here is also second to none.
Episode Hotspot (Sponsored by Garmin)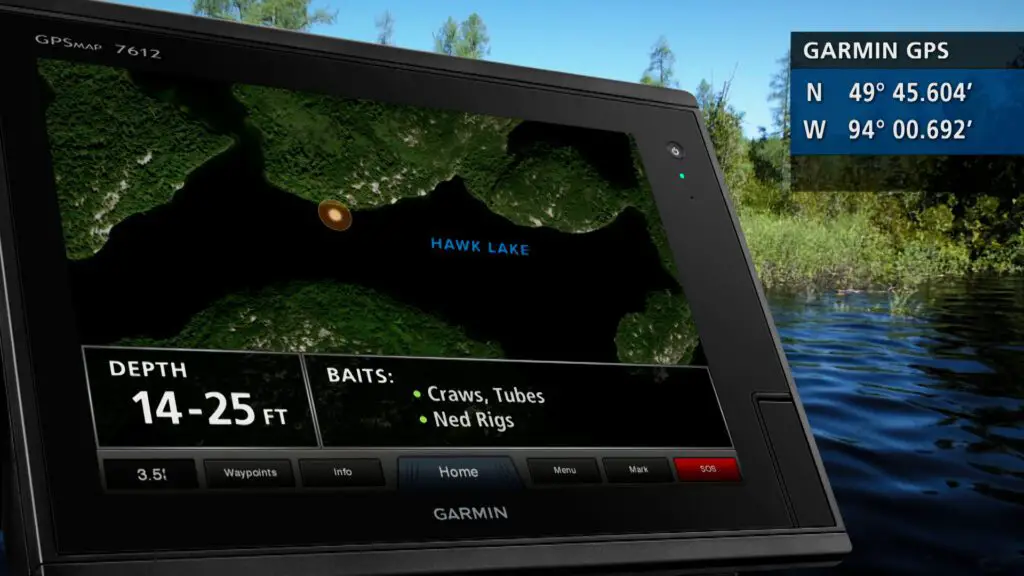 This episode's Hotspot is a fast-breaking shoreline on Hawk Lake. The waypoint on the screen puts you in the general area. There's about 150 meters of shoreline to work.
Since the lake was still in the process of turning over and the world-famous Hawk Lake Walleye were pretty much shut down for a few days, we decided to fish shoreline areas near big flats in search of Smallmouth Bass.
This shoreline is situated directly beside one of the most popular Walleye flats in the lake called "The Narrows". Unfortunately, Smallies play second fiddle to the Walleye here in a popularity contest. Fortunately for Bass lovers, this Hotspot is pretty much on fire throughout the season.
During the early season, all the usual Smallmouth fishing tactics will work here. Come the cold water period though, soft plastics definitely take over.
You can start by casting to this shoreline and working from shallow to deep. If that doesn't work, then slowly "drag" your bait parallel to the shoreline with either your electric motor or with the aid of the wind.
Dragging plastics is deadly for Smallmouth Bass. And don't worry about the boat drifting directly over the fish, they don't seem to mind it.
For more Hotspots like this one check out FishnCanada.com.
Baits: Craws, Tubes, Ned Rigs
Presentation: Casting and Dragging
Depth: 14- -25 Feet