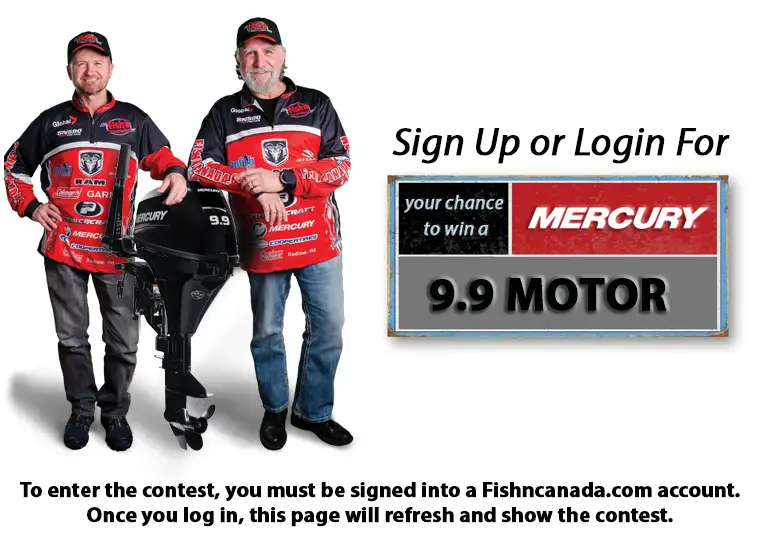 About the Contest
No purchase required. Contest begins on Saturday March 16, 2019 at 15:00h EST, and ends on or before December 16, 2019 at 15:00h EST A total of Nine (9) 2019 9.9MH Mercury Fourstroke motors (model#1F10201KK) will be drawn during the duration of the Contest. Each motor has a retail value of approximately
$3,000.00 (MSRP). Open to legal residents of Canada who are age of majority in the province or territory of residence at time of entry. Odds of winning depend on number of eligible entries received before contest draw closing dates.
1 entry per person every 24 hour period for the duration of the Contest. For full rules and entry details of each contest draws login
Aucun achat requis. Le concours débute le lundi, 17 juin 2019, à 15h. HNE et se termine le ou avant le 16 Decembre,2019 à 15h. HNE.
Au total, six (6) moteurs quatre temps Mercury de 9,9MH(model#1F10201KK) seront tirés pendant la durée du concours. Chaque moteur a une valeur au détail d'environ 3 000$. Le concours est ouvert aux résidents du Canada qui auront atteint l'âge de la majorité dans leur province ou leur territoire de résidence lors de leur inscription au concours. Les chances de gagner dépendent du nombre total de participations reçues avant les dates de clôture du concours. 1 seule participation par personne par période de 24 heures pendant la durée du concours. Pour des renseignements complets au sujet des concours, consultez Fishncanada.com/contest.