Well, our 4th annual muskie trip just wrapped up and we were very lucky to have one of the best guys on the planet spend two whole whopping days with us! That might not seem like a great feat, but when your name is Kris King and you shoulder the title of Senior Vice President of Hockey Operations of the National Hockey League, the end of October is an extremely busy time! But it doesn't matter who you are, when the river calls it's tough to break the bond between a band of musky fishing brothers, and the allure of the allusive fall 50-pounder!
So, with Kris rounding out the group we were eight strong. But, this year we grew by three, one father and two sons.  The original band of brothers four years running are Kris, as mentioned, Paul Kupferschmidt, Brian Ingram, Pat Tryon, and me. The rookies this year were Brian's 14-year-old son – Dec, Pats Dad – Bob, and my 16-year-old son – Mikey.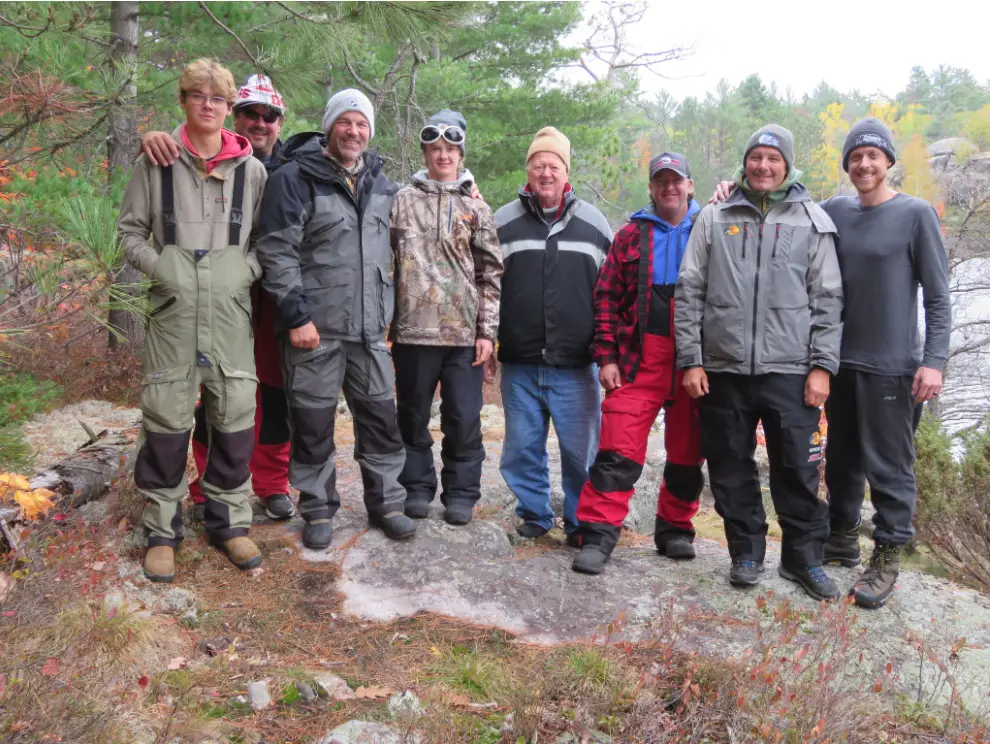 Now, our fall musky hunt is not for the faint of heart we spend just about every hour of light on the water trolling and to a lesser extent casting for these jagged-toothed giants!  And, believe it or not, most of the time is without cell service!  Yes, that is right, you actually have to spend most of your time with the people you are with! Not distracted with the multiple texting conversations on the go or feeling the need to keep that snap streak alive! In this magical place, you are shielded from the constant interaction and ever-present poking from apps like Facebook, Instagram, Tik Tok, and whatever other cyber addiction you and the others in the boat might have!  It's a thing of beauty!  That is right, I will repeat that for emphasis, it's a thing of beauty baby! And we haven't even boated a fish yet!!
For all you folks older than 35ish, I want you all to take a moment and reflect on the trips we went on with our dads and friends back in the day – there were no phones! When we were on an adventure, more times than not, we couldn't be contacted or contact anyone! Unless you were at a high-end lodge with a landline or pay phone, and it wasn't out of the question to be gone for a week or more!
We all seemed to survive those times and truly enjoyed the undivided, undistracted company of the people we were with, something that a lot of today's kids and even young parents have never experienced – a world without distraction. The anxiety of having to let someone on the other end of the internet know what you are doing.  So many times, the phone – in your hand or your kids' hand, gets in the way of the real quality moments and I realized on this trip how truly amazing it is to have the undivided attention of my son and all the people around me, with no distraction and one collective goal, have fun and catch fish!  Brian said it best, "even if Dec isn't in my boat with me, I love the quality time he gets to spend with the amazing people that are here".
The Value of a Wilderness Nap
Now you might be wondering what you do with 12 hours of quality time spent from 7 till 7 on a boat. Because 12 hours doing anything is a long time! And you are absolutely right! Just the thought is a daunting one, especially when the muskies rarely break the silence. Well, all I can do is tell you what we do to pass the time. 
First, we make sure that we pack a great lunch full of awesomeness (except on the day when the legendary shore lunch is taking place, and we will talk about that in detail a little later).  Also, be sure to dress for the occasion and err on the side of warm! We go in late October or early November and It is vital to be warm out there but be sure to be prepared for your local weather anytime you go! (we have a canvas top on the boat with sides and a propane heater to be sure we are warm).
A Bluetooth speaker is a must! And have everyone download their favorite music prior to the trip, we play a game where we pass the phone and put a song on a playlist, and no one knows what song is coming next. This works awesomely, especially with a group of people with diverse musical tastes, it's also interesting to hear what your kids are listening to!
We bring cards and play games like euchre on a wee makeshift table and tell a ton of stories, some of which may even be true!
Also, take turns driving because there are few things in life that are better than a beautiful, sunny, fall day on the water, closing those heavy old eyes behind your polarized glasses and sneaking in nap – it's like heaven! Mikey proved to be a champ at that, he made sure to explore many different positions for naps in search of the most comfortable way to enjoy one, on the seat in the boat, the floor of the front deck, and even on a soft patch of Spanish moss on the forest floor leaning up against a tree before the shore lunch!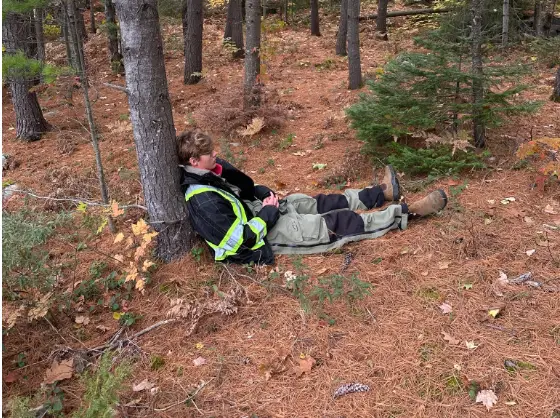 But that's great! It freshens your soul and heals your mind. Honestly, there is nothing more relaxing and enjoyable than an outdoor slumber! Your mind and body get to rest while simultaneously soaking up the life force of Mother Nature!  When was the last time you did that? And if you are so lucky to be rudely awakened by the violent rip of drag on one of the rods as everyone jumps into action on the fish of a lifetime, outstanding! Or just to find the other three pranksters in the boat all watching to see your reaction as they yank the line pretending to be the fish – Priceless!
These moments are truly priceless.  And it is my pleasure to be stirring you and hopefully motivating you to get out! Out with the ones you love.  Fish, hunt, hike don't be afraid to be away from our connected lives and build lasting memories with the ones you love.
Unfortunately, we can't control the musky bite. But as promised we can control the shore lunch! And, when done well, this is a memory that will always last, and it is tasty too! So here it is, and if you don't feel comfortable doing something like this, Pat and I are new this fall and next year guiding the upper French for groups of up to 4 people and providing experiences like these including this shore lunch! But listen anyone can do this and the satisfaction you get from catching and providing your own meal is outstanding!
The French River Shore Lunch
Honestly, the best way to explain to you how to do it is for you to listen to my Diaries of a Lodge Owner Podcast 18 where Pat and I talk in detail on the preparation of the shore lunch and share the expert tips we have learned over the years. But below are the Coles Notes on how to prepare an Upper French River shore lunch.
First, you need to pack your shore lunch kit. Secondly, you need to catch the fish to eat. Walleye is very popular, but not always available but honestly most fish can make great table fare! But, on my home waters, I prefer the above-mentioned walleye, northern pike, smallmouth bass, perch, and yes even freshwater drum has graced the hot oil and tasted delicious!
Some say, "what if we don't catch any fish?". Great question and my answer to that question is do it anyway! You have fries, maple flavored canned beans, onion rings bread for toast and sometimes we even packed a piping bag full of doughnut batter for dessert! The lunch can still be amazing without the fish!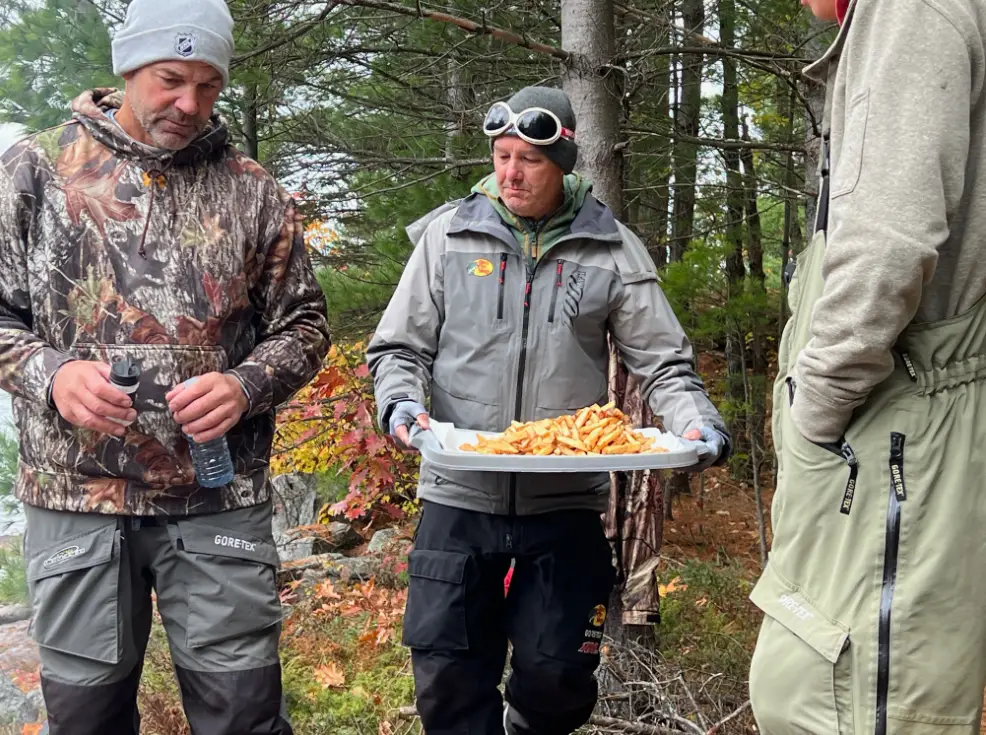 That being said, what we did on our trip was Pat his dad Bob and Paul caught some fish the day before the shore lunch and we took it with us the next day.  If you choose to do this, it is a great way to ensure you have fish and makes the day easier to plan, be sure to leave a skin patch attached to your filets because you are transporting fish, even in your boat it is the law.
Also, plan out your location. Use crown land, a designated campsite, or private property that you have permission to use. Pull the boat up on the shore and grab your gear out of the boat. Then build or inspect the existing stone-piled fire pit and set up the pan.
It is important to level the pan out across the top of the pit before you have your fire lit!  Light the fire under the pan and add the oil now our pan is roughly 25% larger than a basketball hoop and 4" deep and we usually use 4L of vegetable oil. Grab your cans of maple-flavored baked beans open all the way around the can, leaving a small piece of the lid attached and leave it for the most part closed and place close enough to the fire somewhere stable (on a rock, grill, on the ground close to the fire) so it will heat up.
Note: it is imperative that you open the lid!! An unopened can could blow up!!
Once the oil is hot, add the pre-cut fries and cook till they just start to brown then add raw sliced onion but keep the largest rings for later, finish off to golden brown, and remove fries. Put fish filets into a plastic bag of dry dredge and shake one filet at a time.  Once coated put in pan, skin side down to prevent the filets from curling. If the temp of the oil is close, they should brown to gold in about 3-7 minutes and remove.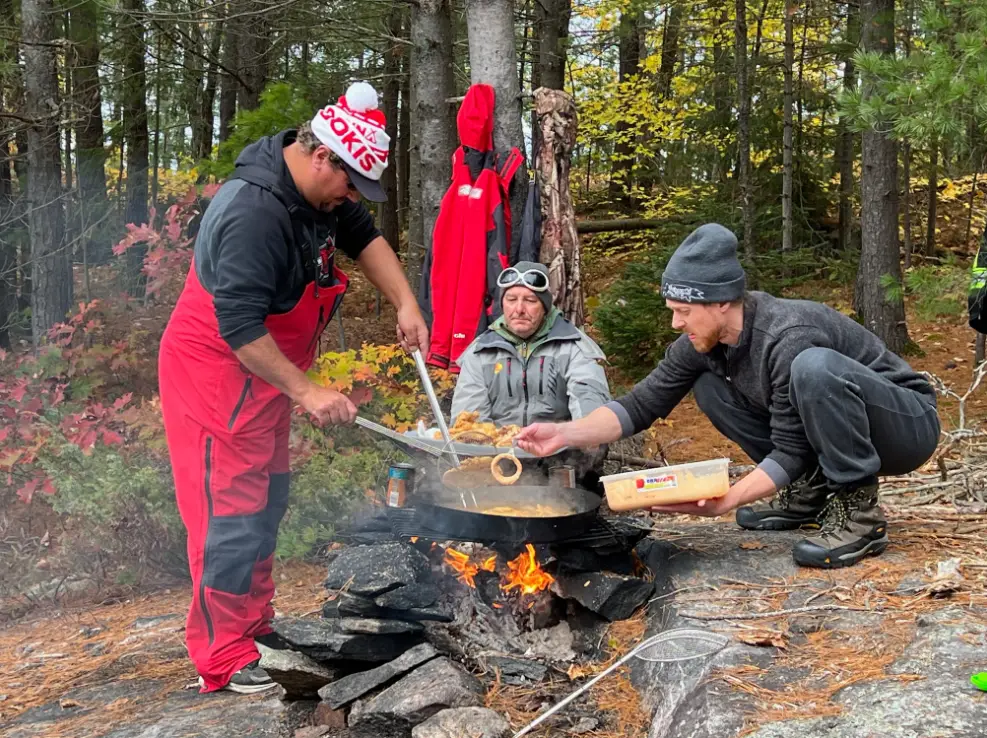 With the remaining dredge add club soda or ginger ale (something with carbonation) mix to a nice gooey batter and take the large onion rings you set aside, coat and cook to golden brown!  If you have doughnut batter, pipe it into oil, cook to golden brown, and enjoy!!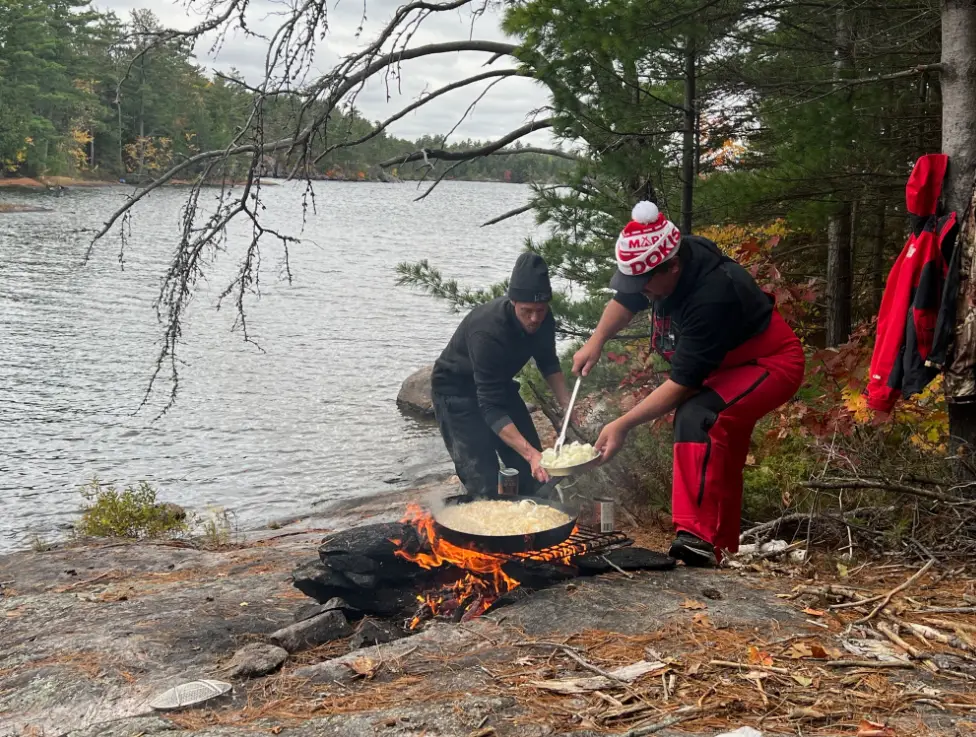 The bottom line is, get out and spend undistracted time in nature with the ones you love! I believe as Canadians we are so blessed to have such a rich land and history at our fingertips, and we all need to get out and explore our heritage. Nature, the outdoors, and the need to experience it is in our DNA as human beings, and in my humble opinion, there is nothing that brings us closer as a species than the time spent without distraction in nature with the ones we love. And I know for a fact, that if more people took the time to disconnect from their phones and the daily stress of life and reconnect with our roots in nature this world – 100% – would be a better place.