Pete and Ang have fished Walleye pretty much across the country. They've fished from opening day to closing day and everything in between. Throughout those times they've come across some basic and advanced Walleye presentations.
The following is a list to hopefully help you along in that "post-spawn to early summer" phase.
In no particular order, here are Ang and Pete's Top 5 Early Season Walleye Presentations
JIG AND LIVE BAIT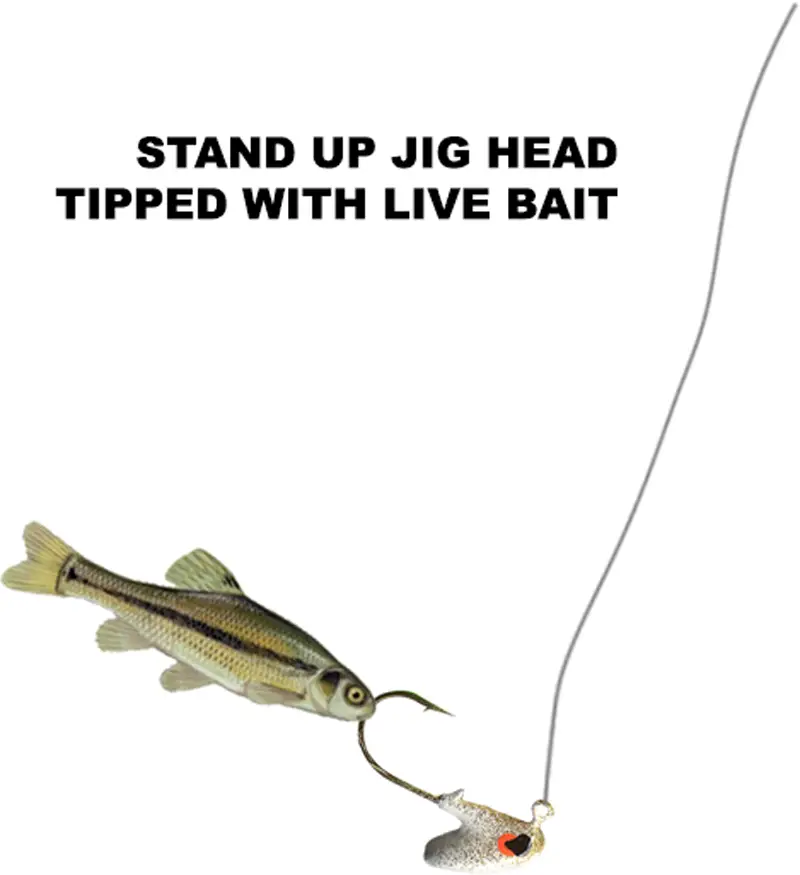 Depending on where you live, your environment means a lot here. If you are a northerner, then your early season water temperatures can still be cold from a late ice-out. That makes a difference. If you're from a southern area, your waters could be well above normal temps due to a warm spring. Keeping water temperatures in mind is how we chose a live bait to tip on a jig.
First off the jig. This is more of a personal choice and we have no qualms about that. However, a stand-up jig head is a wise choice, especially if the fish have been pressured. Picture a worm, minnow or leech lying on a silty bottom vs. swimming tail-up inches off of the bottom. It can make a huge difference.
Jig sizes are warranted by conditions. Shallow water with little wind means a 1/8 ounce max jig is in order. Nice, light and subtle.
A good all-around site is a 1/4, carry lots of these just in case.
1/2 ounce is great for water deeper than 15 feet with a decent wind blowing. Remember you need to be in control of your presentation which means "FEEL".
We've even gone to 3/4 and 1-ounce jigs when fishing rivers with strong currents (like the Detroit River at Windsor).
As for jig colours, have chartreuse, white, black, white/pink and even unpainted jigs in your box. Experiment, that's what we do.
Now for the live bait portion.
In cold water, let's say under 60 degrees F, we love using minnows. Worms will work but we find minnows better at that time. Leeches curl and ball up in the cold water and it doesn't look natural to us (maybe the fish don't care but we do… we know it sounds silly but…).
Once the water is over 60 however, bring on the worms and leeches. You can use either part of or the entire worm, up to you and how many perch are nagging you. Obviously use a whole leech hooked once through the sucker.
The good ol' jig & live bait may just be the most popular Walleye presentation of all time
WORM HARNESS
What a killer of a Walleye presentation this is. Used either with various sized sinkers or with a bottom bouncer, a worm harness is a hard presentation to beat.
We like a 2-hook harness in where we nose hook the worm on the front and then body hook the worm with the rear hook, leaving the back half to dangle. As long as the early season perch aren't around, this presentation is the bomb!
Colorado or Indiana style blades are the norm here however if you really need to slow down, try a Hatchet style of blade (seen in the image). They turn at ridiculously slow speeds.
Silver blades in the sun, gold in the overcast and chartreuse, orange, pink, purple etc when all else fails.
BUCKTAIL JIG
If you're a rip-jigger then bucktails are a staple for you. For those of you who don't know what we are talking about, Walleye anglers who fish a lot of weedy lakes use a technique known as rip-jigging. It is definitely classed as the most physically exerting Walleye presentation on this list.
To do this effectively you need to cast bucktail jigs directly into weed beds, and pop or rip the jig back in violent jerks through the weeds. Give the bucktail a couple of seconds to allow it to rest on the bottom after every rip. Once it's clear of weeds, fire it right back into the thick of things.
It sounds bizarre but it works.
Things to keep in mind here is braided lines work best since there's virtually no stretch. When you rip that jig, it responds!
3/8 ounce dark coloured jigs seem to work best for us. Black base with a streak of yellow, chartreuse, red or even blue has been great. Perch colours are dynamite at times as well. Betcha' purple is good too!
NOTE: This works with jig and plastics as well but eventually your plastic will pull down the hook. Bring come super glue along.
SHAD CRANKBAITS
We LOVE either casting, trolling or drifting Walleye crankbaits. These lures flat-out catch em'! Baits like CC Shads or Shad Raps are awesome. Since they are so light we use either our medium action spinning rods and reels or an extremely light bait caster (better off with spinning if you don't fish a lot). If you're casting only, then don't use a bait caster (unless you are wicked good with light baits).
As for sizes, remember it's early in the year so smaller is usually better… even for big fish. As for the Shad Rap, try an SR05 or 06 these are great all-around sizes. There are a plethora of colours available, it pays to experiment (that said try Hot Steel, Perch and Yellow Perch)
For the CC Shad, this is a classic bait that is getting harder and harder to find. It's 2.5" long as well and it's a Walleye smasher! We like silver with black back, perch and gold but honestly grab any colour you can. The unique thing about this bait is the sound it emits. The body is a hard but light plastic and the beads inside make an extremely loud rattle… a KEY!
Here's a Fish'n Canada episode where we did well trolling small crankbaits
LIVE BAIT RIGGING AND DROPSHOTTING
Again with the live bait you say? Yup, we say, let's be honest, adding live bait whenever possible to any and all Walleye presentations can usually up your odds.
As long as it's legal, we'll probably have live bait in our boat at early Walleye time.
First off, we cannot leave out a live bait rig, (sometimes called a Lindy Rig) it's as simple as it gets. Your line has a sliding sinker on it, it's then tied to a swivel (pre-rigged) and a piece of the line goes to a smallish live bait hook. That's simple.
The little "EXTRA" tip you get here comes from Angelo. He loves drop shotting for Walleye.
During a trip to Lodge 88 many years ago, Ang discovered that when the Walleye rise up off the bottom (evening is a classic example of this) drop shotted live bait Walleye presentations are unreal. He used leeches on this trip but any legal live bait will suffice.
For either of the above live bait Walleye presentations and again using the temperatures as in the Jig and Live Bait suggestion above, single hook your bait through the nose, DRAG the rig(s) in and around anything that looks good in the Walleye world (fish with your spinning reel bail open, while holding the line with a finger), waits for a bit of resistance (that's a fish picking it up) close the bail, reel in to tighten your line and sweep-set the hook.
Can you say "DEADLY"??? We knew you could!!! Here's some more on live bait rigs
IN CLOSING
There you have the guys favourite early season Walleye Presentations. These suggestions will work in all Walleye waters.
As soon as this crazy pandemic is over, get out there and enjoy mother nature and her incredible gift, the Walleye!