Presented by Garmin
Here in Canada, spring fishing revolves primarily around walleye. However, we feel that those waiting until that April opener are missing out on some excellent fishing opportunities and the prime season of some of the "secondary" species that swim our waters.
So, to get you started on your early spring fishing trip planning, we wanted to compile a few of our favourite locations that we have featured on the show throughout the years that we think are well-worth embracing the Canadian spring weather.
So without further ado, in alphabetical order, here are our top 10 spring fishing hotspots!
Species: Rainbow Trout/Brown Trout
The first hotspot on our list is for the Alberta fly angler. This Hotspot is a section on the Bow River outside of Calgary, Alberta. It's a deep section just below a rocky shallow area. Make sure you fish from this shallow run all the way past the mouth of the Highwood River—this is a very large area so do not dwell on the exact waypoint.
According to the Bow River Hatch Chart, you should use Blue-winged Olive (size 16-18) and Skwala (8-10) patterns when fishing in April and early May.
Species: Northern Pike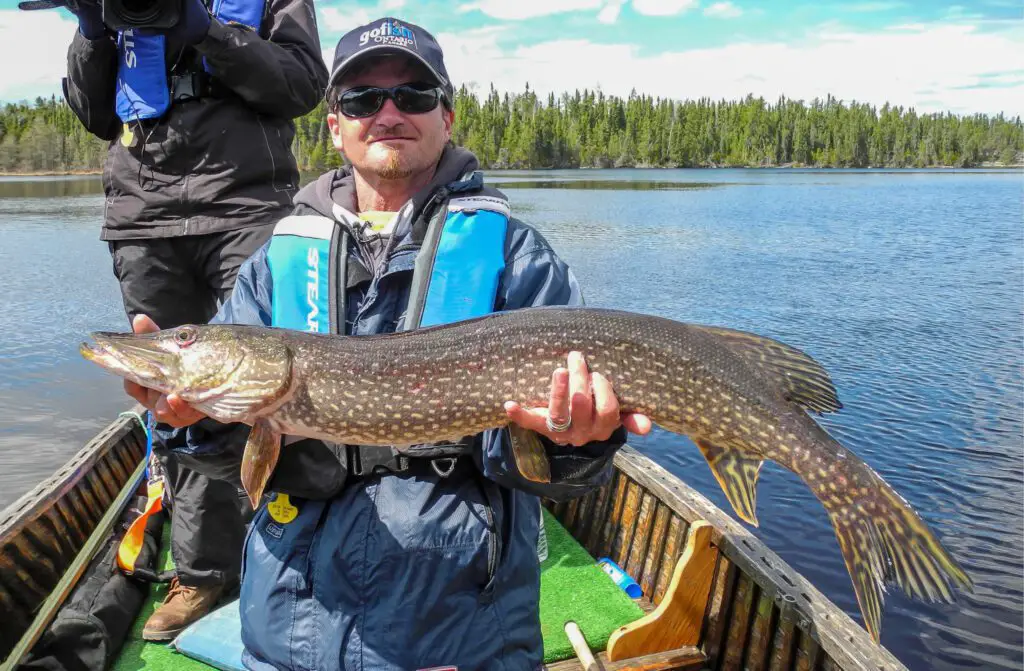 This Hotspot is a pre-spawn staging area for Northern Pike in front of Jackfish Bay on Esnagami Lake. Big fish will lie dormant in this area waiting for the exact moment that Mother Nature deems perfect for the trek into the shallows.
By slowly running a #3 inline spinner over these lethargic-yet-hungry beasts, an angler has a good chance of connecting with the fish of a lifetime. 40+ inch Pike are quite common in this area of the lake.
**NOTE: keep an eye on conditions as this northern lake often sees ice deep into the spring.
Species: Catfish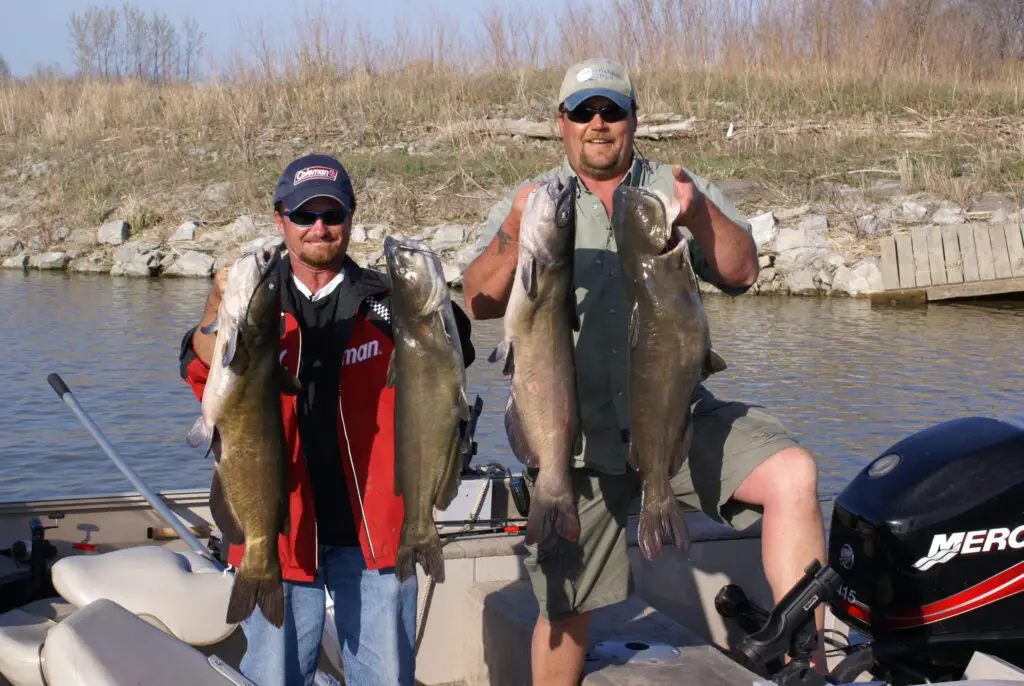 This Hotspot is primarily a Channel Cat spot but it's been known to produce more than its share of Walleye (once they are open) as well. It's located on the Grand River right in front of Fishmaster Ultimate Charter's Bait & Tackle Store.
Steve Hardcastle and our own Pete Bowman previously shot a Catfish episode for the Fish'n Canada Show and Pete was blown away by the quality of fishing.
For this Hotspot, you can either fish from shore or from a boat (Steve has a launch right there). Simply cast out a piece of Sucker or dead bait and wait.
If you need to get some "Cat" gear, Steve's store is well stocked.
This is a great spot for the family.
Species: Northern Pike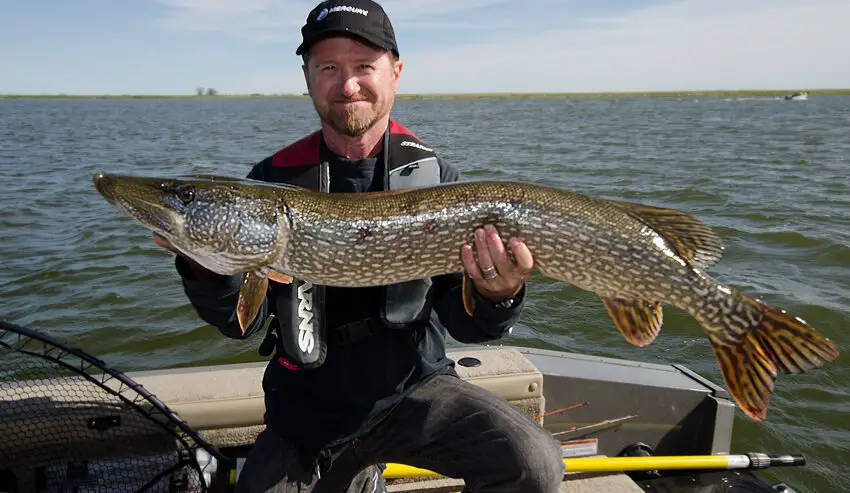 Here's another Hotspot from Saskatchewan's Last Mountain Lake. Big Northern Pike spawn here and then take a bit of time to feed before moving to deep water.
If you're here and the fishing gets tough—or your hook-up ratio goes way down due to short-striking Pike—downsize your baits and most definitely add a stinger or trailer hook if possible.
A slow retrieve helps put your bait right in the Pike's mouth, ensuring a better chance of hooking up.
Baits: Yamamoto and Big Hammer Swimbaits
Presentation: Cast and reel
Water depth: 4-6 feet
**NOTE: keep an eye on conditions as this northern lake often sees ice deep into the spring.
Species: Lake Trout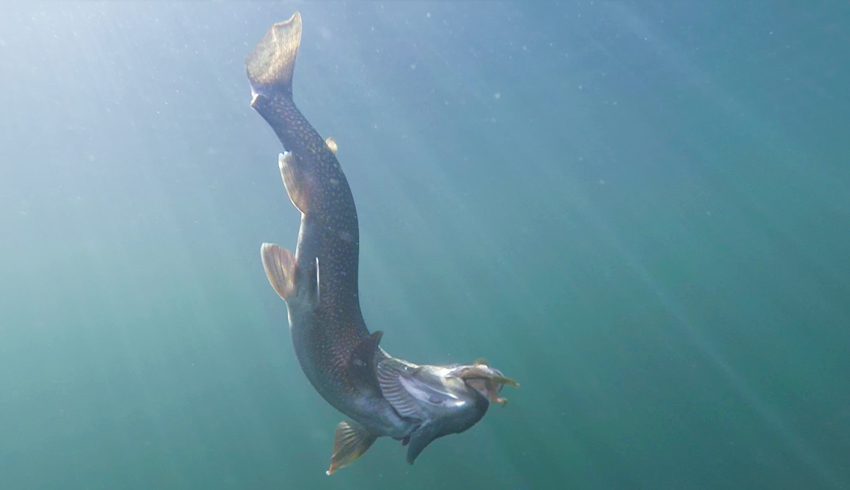 Here is a Hotspot we just lucked into with Steve Hardcastle of Fishmaster Charters. Troll around 15+ feet of water with spoons and, believe it or not, Dipsy Divers to get them down!
It's a unique spot because of the shallow water. Remember, though, when the water temps go up, the Lakers go down!
Species: Lake Trout/Steelhead/Salmon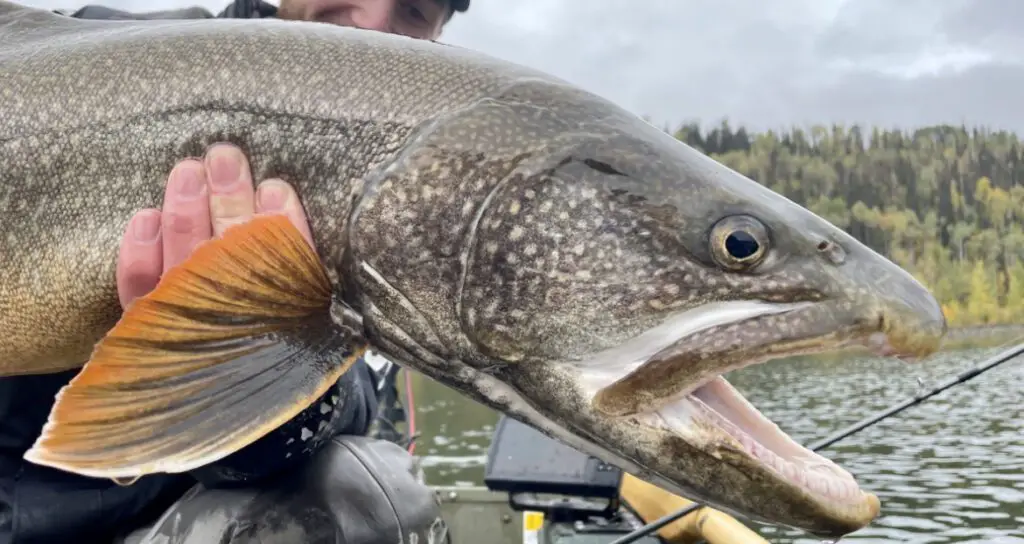 This Hotspot is a Speckled Trout, Lake Trout, Steelhead, and Salmon waypoint. We know that because we caught all of them there!
Try casting spinners and small spoons like Cleos and minnow baits up to five inches in size. Don't hesitate to cast shallow and work out to the first break down to twelve feet.
Species: Rainbow/Brown Trout
This Hotspot is a 2-for-1. The first is the Queenston Drift on the Canadian side of the Niagara River. This is a slow drift and a great resting area for Trout. The second is the Artpark Drift directly across from Queenston on the United States side.
By simply calling the number below, a Canadian angler can order a fishing licence over the phone and be fishing within minutes. These are two of the top Steelhead drifts on the lower Niagara River.
New York fishing licence: 866-933-2257 
Visit Cast Adventures for more information.
Queenston Drift
Artpark Drift
Species: Smallmouth Bass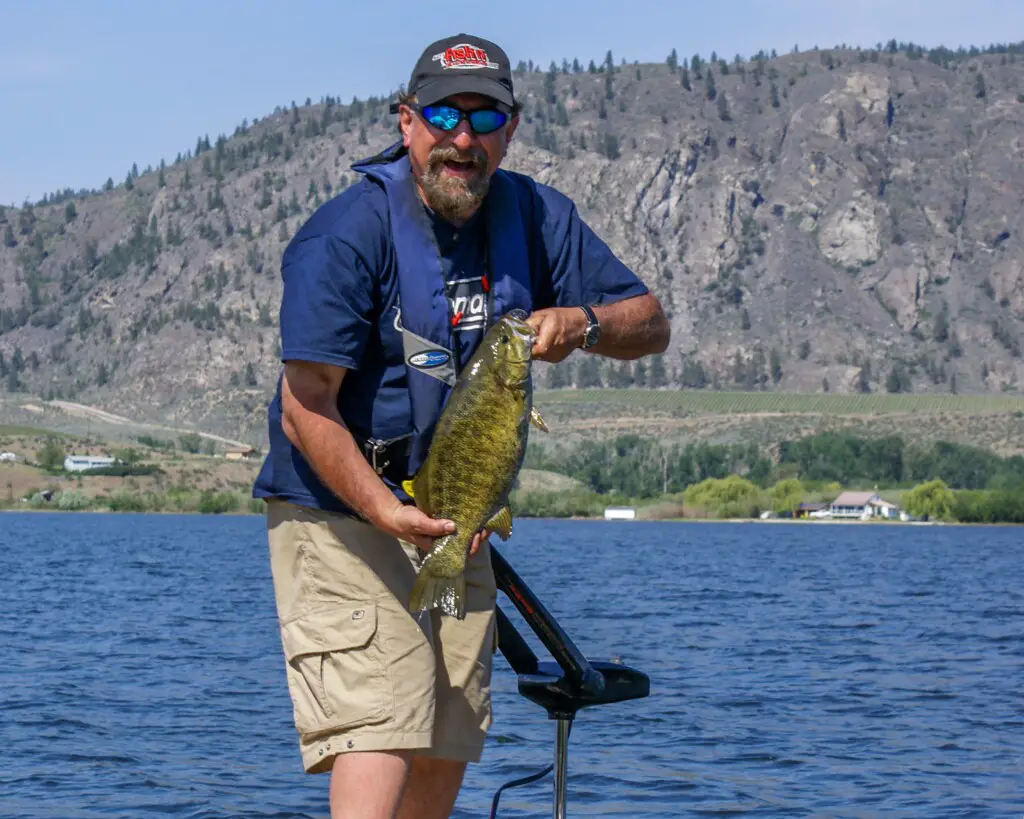 This Hotspot takes us to Osoyoos Lake in British Columbia. This is a point at the northwest end of the lake that can be awesome for Smallies early and late in the season. Work both sides where it drops from 8 to 20 feet. Use topwaters in the morning and drag lizards or tubes on the bottom at midday.
Species: Carp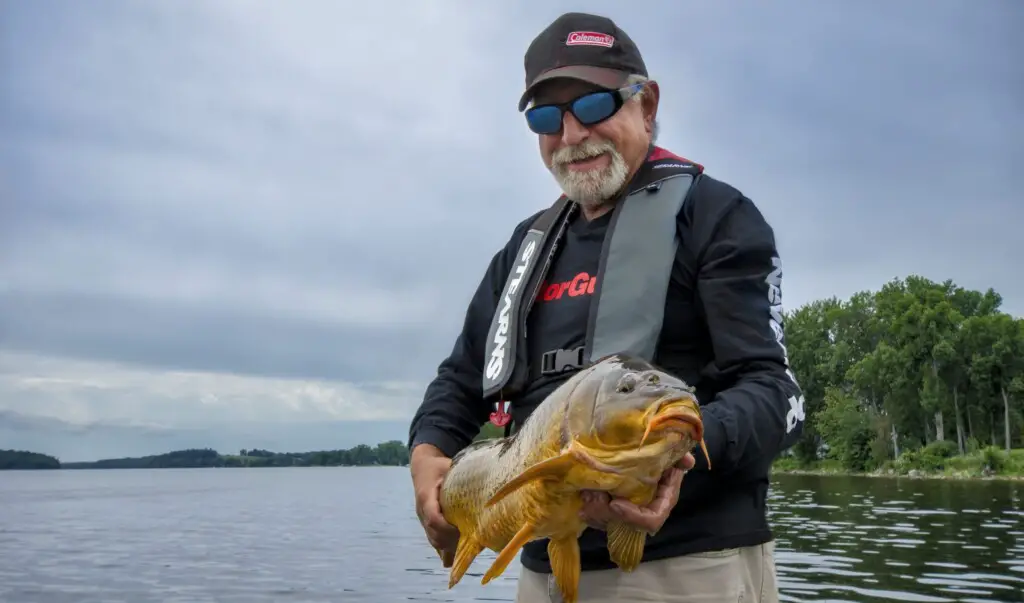 This Fish'n Canada Carp Hotspot is on Rice Lake in Southern Ontario.
Rice Lake, along with the rest of the Kawartha Lakes, is known as an all-around fantastic fishing lake—with Carp included.
During a past Fish'n Canada shoot, we pre-fed the area with boiled corn to draw fish in. Next, we cast out sweet corn, extra-large flavoured corn, and Pineapple Boilies on various slip and bolt rigs. Then, we waited for our bite alarms to start singing.
We feel Carp fishing is here to stay—so why not join us in seeking this great sportfish?
Baits: Sweet Corn, Flavoured Giant Corn, Boilies
Presentation: Cast to open areas in weeds
Water depth: 5-9 feet
**NOTE: This Hotspot on the property of Elmhirst's Resort
Species: Smallmouth Bass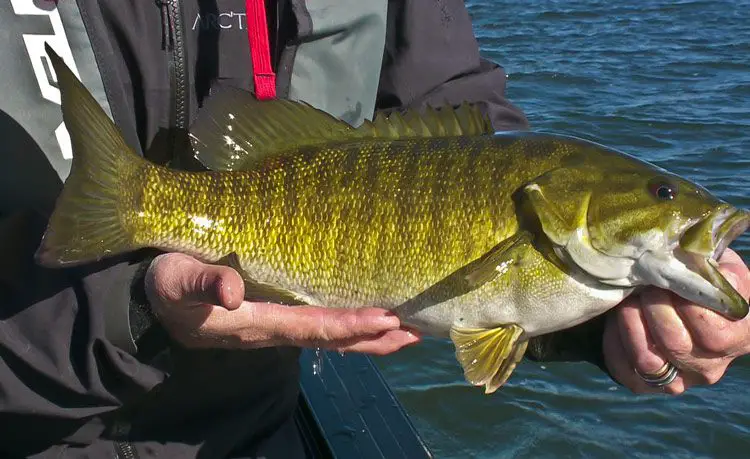 This Hotspot is one we found on our last Bass excursion in British Columbia. There is a little body of water called Vaseux Lake. And it is awesome. The waypoint is located on a spawning shoreline—by the end of March and into April, the smallies can be expected to be "out and about."
In the colder water, try suspending jerkbaits and spinnerbaits. As the water warms, make sure you include tube jigs. The odd Largemouth may be found here as well.