Sponsored by Garmin
Throughout our hundred plus years of combined fishing time, along with an influx of information given to us by friends and fishing experts, we feel we've come up with a pretty good idea as to which weeds attract fish and are the best to try and conquer.
The following is a top 10 list of the weed types we always have our eye on when out fishing our northern waters.
1) MILFOIL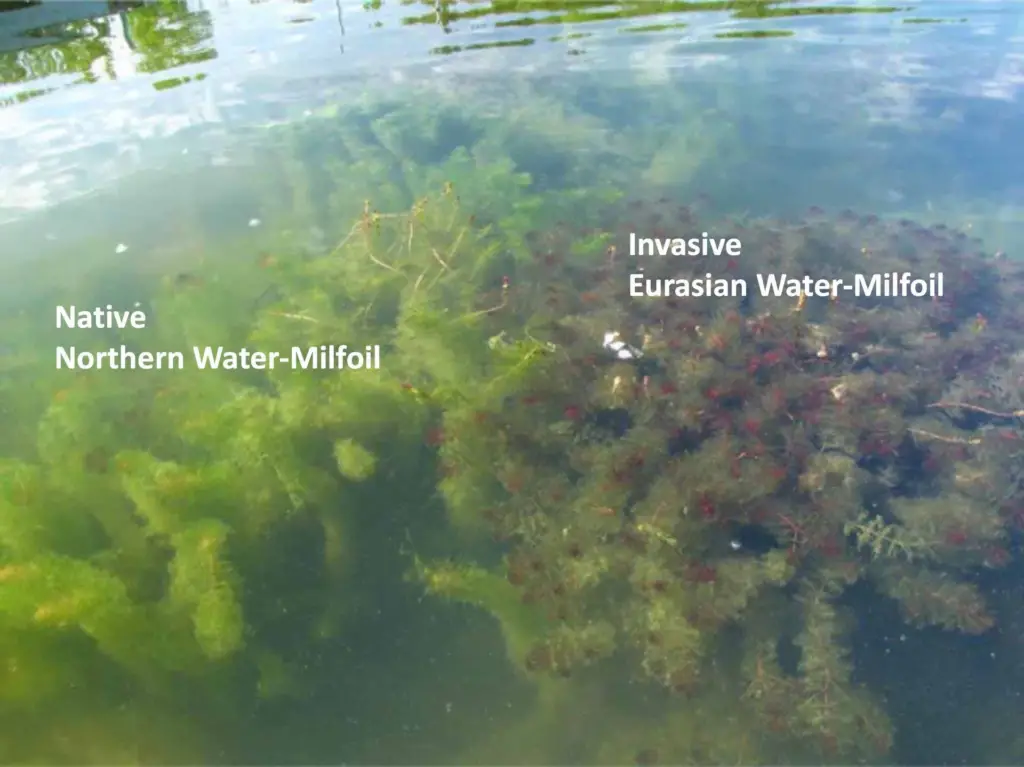 Northern Milfoil is one of the most popular weed types that hold a multitude of fish species.
There are two types of Milfoil that anglers are most likely to find. One is the northern type of milfoil while the other is the Eurasian type. The northern is good, the Eurasian, not so much.
Almost every game fish and panfish species in freshwater are attracted to milfoil weed. We feel it's because every fish is attracted there… including minnows and even zooplankton. Bring on the food, and bring on the hungry fish. 
If you have ever heard the term "rip jigging" it was probably from someone who fishes northern milfoil weeds.
Milfoil weed is an absolute beast of a fish attractor.
We LOVE fishing cabbage weed. It's one of those types of cover that when we see it, we get really excited.
It is truly a predator-type of weed. Muskie, Northern Pike, Walleye, and Smallmouth are the main species we've seen in cabbage weed but we have also caught some big Largemouth in there as well. As you travel further north, huge expanses of cabbage weeds fill up back bays which makes them a bit more difficult to find fish, however, lots of casts will ultimately produce.
Smaller "patches" are more common in the south and each and every patch has the potential for a giant or two.
3) COONTAIL
Coontail weed got its name from the resemblance to a raccoon's tail. It's long and bushy and undulates to and fro. It can grow incredibly thick in the shallows. So thick, in fact, that oftentimes even the fish don't like it.
Move that coontail bed out deeper though and you might just have the weedline of all weedlines. Even though this weed type grows ultra-thick (even in deep water) it creates beautiful edges that all underwater life is attracted to. Find a good deep coontail bed and there's a great chance you'll find fish.
4) EELGRASS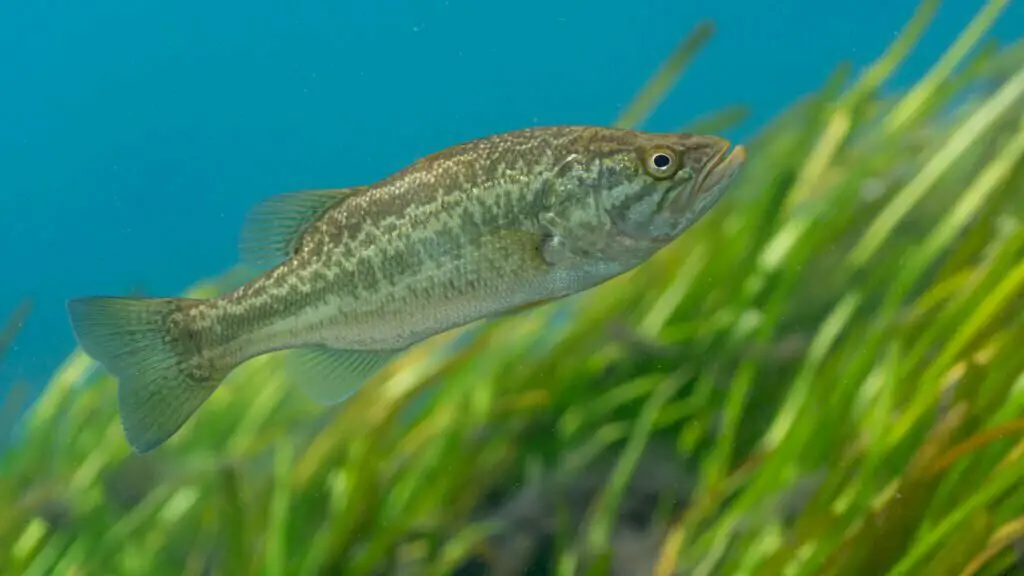 This is one of our favourite Largemouth Bass weeds. For some reason, and we're not 100% sure why, Largemouth love the eelgrass. It almost seems like they want to rub their sides and bellies along it. Yeah, we know that sounds kinda' ridiculous but who knows???
What we do know is we have seen Largies in the middle of the day, either cruising or even sitting still among a lush bed of eelgrass.
5) SAND GRASS
Sandgrass is a little tougher to find and distinguish. It grows in large beds, however, we feel it's not as dense as some of the other underwater weeds on this list.
Our absolutely favourite species of fish to target in sandgrass is the Yellow Perch. If you have a lake with sandgrass and Yellows in it, chances are very good that you'll find a whack of Perch, with some good ones to boot.
Look for big flats out away from shore
6) LILY PADS
Lily Pads just may be the perfect overhead cover for fish.
EVERYONE has fished in the pads, right?
Let's be honest, is there a better Bass weed than lilies?
They provide overhead cover, shade, and a plethora of foods for both small and large fish… come on!!!
Our tip in lily pad execution is to take a fast-moving bait like a weedless frog or a weedless spoon, and just start casting and covering water. If you don't contact any fish, keep going… even if it looks perfect!
If you contact fish, anchor down and start thoroughly working the area. Even if you see signs of fish like the pads moving, or the wake of a fish or even a bunch of sunfish or minnows, that's where you start working extra hard. Trust us, if there's bait in a certain area of the pads, there's bass in that area.
Pads are such a fun area to catch Bass.
7) BULRUSH
"Cane Patches" are what we used to call them. Others call them Cattail.
These were isolated patches or islands of tall standing dark green reeds in the middle of a bay.
Once we discovered that bulrush patches held fish (mostly Largemouth but often an array of species), we started concentrating more (than in the past) on the exact same weed type along shores. And man, did we find fish.
Sounds like that was way back then but, honestly, bulrush still holds fish to this day. 
One thing we will say about this weed type is that you will most likely be forced to use some type of Texas-rigged plastic worm or weedless jig. Oftentimes the biggest fish are in the thickest areas.
Find the right patch, and you'll pop your limit in no time!
8) PENCIL REED
Not to be confused with the above bulrush, pencil reeds are like a mini version of the aforementioned… and they're even tougher than their big cousins!
One species of fish we have encountered a lot in pencil reeds is, believe it or not, Smallmouth Bass. Yes, we have certainly caught Largemouth in them but big Smallies are very much attracted to pencil reeds. We think it's because of the bottom composition where these reeds grow. It's almost sandy-like and often quite hard.
Tip: Early season Northern Pike also invade the pencils in full force. They'll sit there like a log on the bottom and rocket out and crush their prey. Use your eyes to find them and if it looks like a log… cast to it!
9) ARROWHEAD
Here's an odd, yet gorgeous-looking weed that is only found on some lakes. It's a shallow water, exposed leaf weed that stays green well into the fall. That's a great key for this weed.
We have caught lots of Bass, Pike, and Muskie in shallow arrowhead's into October (September seems to be best for our late fishing)
Arrowhead weeds, like many of the others on this list, grow thick and close together. Don't even bother trying to pull a spinnerbait or any other moving bait through the thickest areas. You'll need to pick and choose those little pockets and channels if you want to run a moving bait. Think of these as lily pads on steroids. And talk about tough… these babies are as tough as they come.
By the way, our best fall bait in the arrows is a jig and a chunk!
10) COMBO
You may think this is a cheat or a cop-out for our #10 on this list but, in fact, it's the best fishing weed tip we can give you here.
When you find a combination of two or more of the above-listed weed types growing together, you may well have found the mother load.
So many bass tournaments have been won by anglers who have keyed in on more than one type of weed growing together.
Let's say you are fishing some nice shallow northern milfoil. Then all of a sudden you start seeing long strands of grass popping up. Some in singles and some in bunches. Well put your brakes on and start dissecting the areas of the mixed weeds.
If you start catching, don't leave until things slow down. But the best part is next, do the old Roland Martin special, and look for that same weed combination elsewhere on the water (Roland calls this pattern fishing). We can pretty much guarantee that if you find close to the same conditions, you'll be catching more fish.
CONCLUSION
There you have our Fish'n Canada's top 10 Fishing Weed types, a bit about them, along with a couple of fishing tips. 
We believe that this one needs to be dug into a bit deeper and really broken down, so that will be in a future article.
Until then, don't be intimidated by the weeds on our list. Hit them and hit them hard. Everything from Minnows to Trout to Walleye to Muskie thrives in the weeds. 
Your job is to figure them out. 
Best of luck.